When we think of staple pieces for the office, the first few things that to come to mind are black dress pants and blouses. While these are definitely wardrobe essentials, there's something about a well-fitted, statement jacket that can instantly transform your outfit. Now that the weather is adjusting to warmer temperatures, there are countless lighter options and playful colours available to amplify your office wardrobe. These are the reasons why jackets are statement pieces for the office — as they provide a touch of polish and professionalism with a dash of excitement.
Ladies, ask yourself this: if the season is changing, then shouldn't your selection of predictable, everyday office wear? Put those average blazers to the side once and for all and try out at least one of these five statement jackets that will bring your work wear to a whole new level.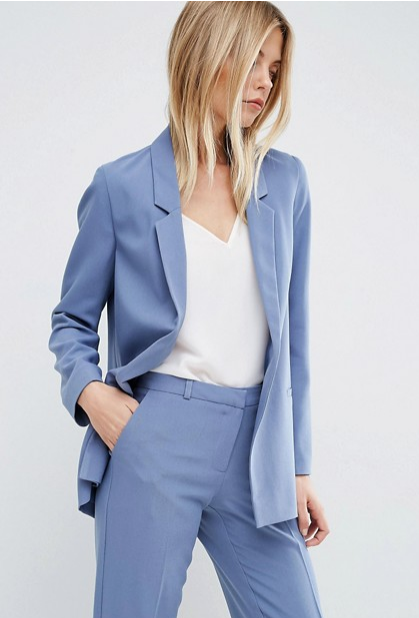 The Airy Pastel Blazer
If you're not afraid to work with colour, upgrade your black work coat for a blazer in a welcoming hue of pastel pink or sky blue. These airy pastels can ignite an otherwise predictable look and look best when paired with a pair of crisp white jeans, dark jeans and even matching dress pants. Adding a statement necklace can further elevate your look and a pop of colour that will help bring the pastel colours to life.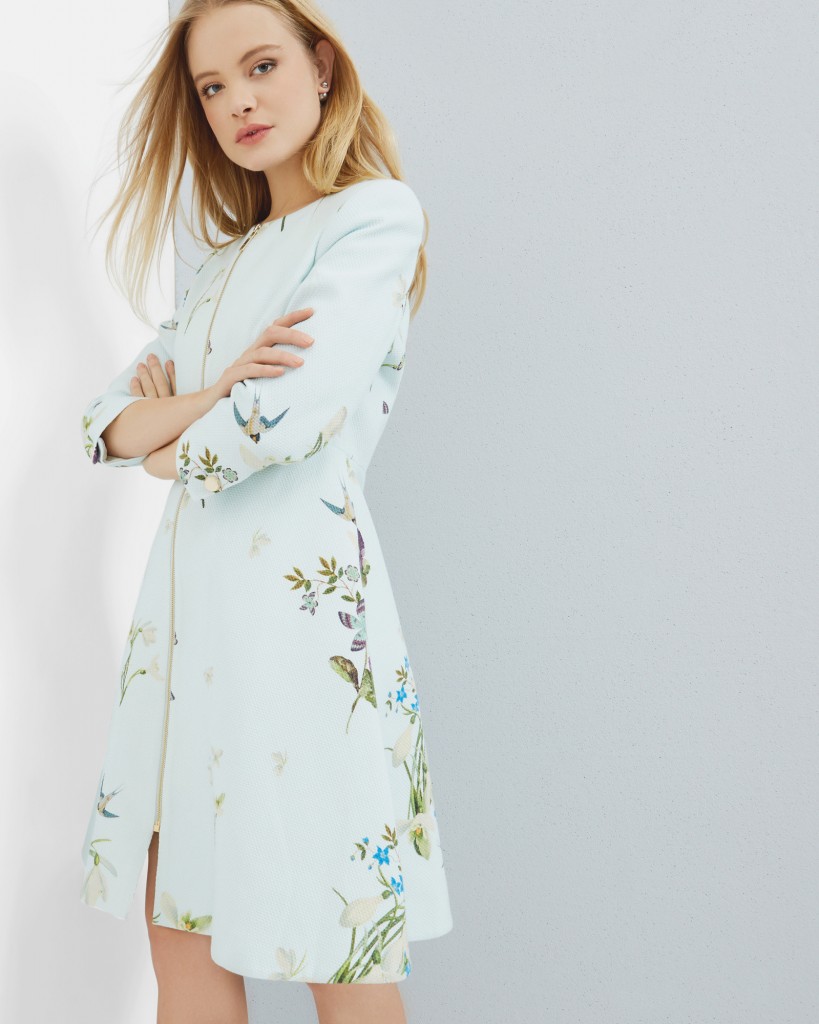 The Colourful Print
Nothing will turn more heads while walking into the office than a colourful printed coat. To not overdo things, we suggest pairing an understated dress with a bold coat, as this will complement well together without being distracting. Not a fan of dresses? Try a slim-fit pant, button-up shirt with a layered sweater and a heel to elevate the look.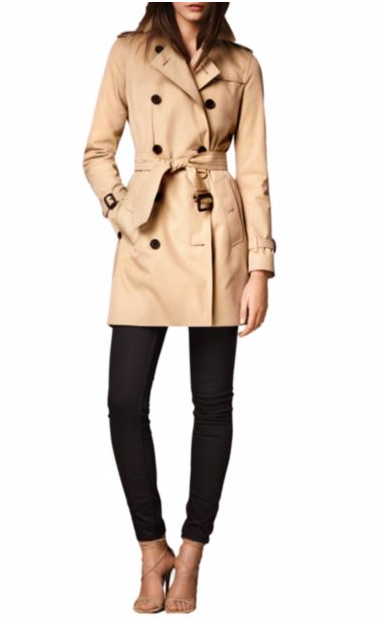 The Timeless Trench
The classic beige trench comes equipped with double storm flaps, elegant flow, and a tasteful collar. But let's get real, aside from how durable and practical this jacket is, it goes with practically everything — which is why it's definitely a wardrobe must-have. For the office, pair a khaki trench with a navy wide-leg pant, a crisp white button-up shirt and your favourite ankle boot.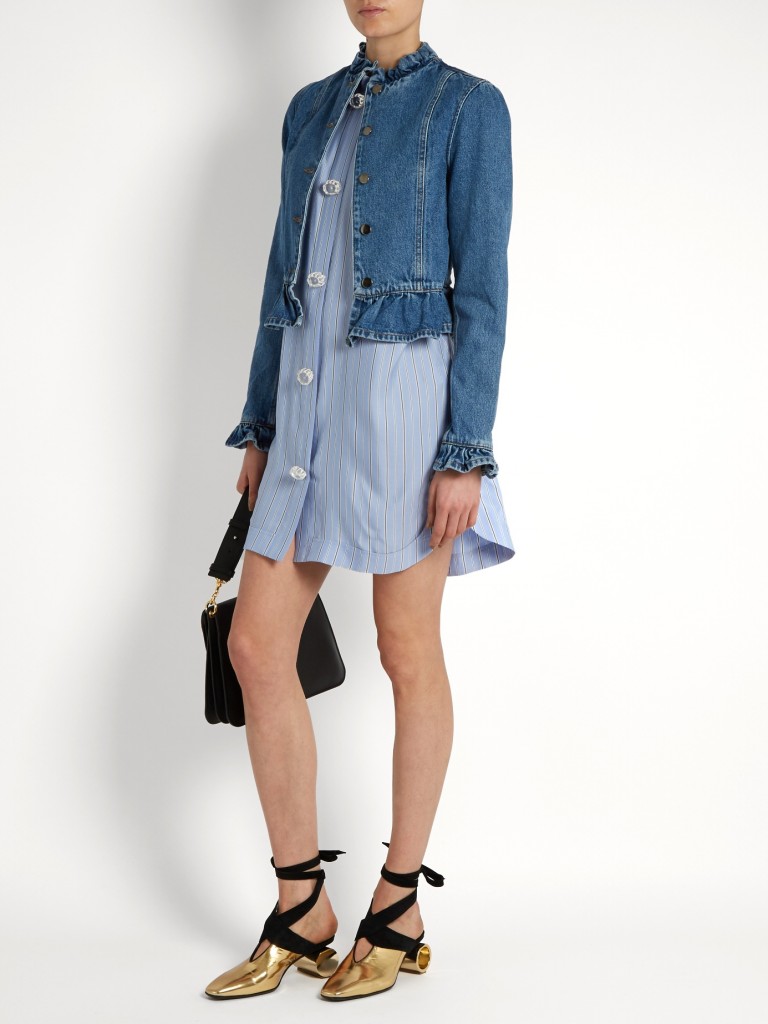 The Feminine Denim Jacket
Rather than strutting to the office in your regular denim jacket, why not try a more flirty denim look? This season, we recommend treating yourself to a more feminine number that will not only silhouette your figure perfectly but also add some flair to your office attire. When rocking a chic denim jacket to the office, we recommend keeping the rest of your look on the chill side — like a pair of sleek chinos or wool pants paired with a tucked in silk blouse or if your office is casual, pair with a simple shift dress.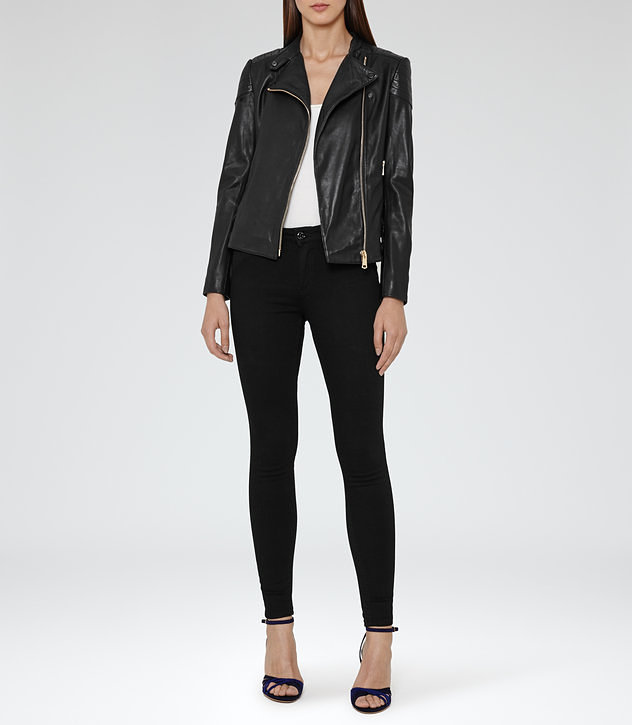 The Leather Motto
Finally, if you're interested in rocking a coat with a bit more attitude, a hip leather jacket adds an edgy yet polished touch to your everyday look. A fitted leather jacket looks perfect with a wide or straight leg pant or a sheath dress and can take you from the office to after-work drinks an beyond.
Inspiration Images
Image courtesy of McKenna Bleu via Pinterest
Product Information 
ASOS Slim Tailored Jacket In Crepe, $66.82, available at ASOS
Racheel Spring Meadow Collarless Coat, $465, available at Ted Baker
Burberry Kensington Mid-Length Heritage Trench Coat, $1005, available at Saks Fifth Avenue
J.W. Anderson Ruffled-Trimmed Denim Jacket, $616, available at Matches Fashion
Shelby Leather Biker Jacket, $840, available at Reiss
Carly Brascoupé, Toronto, @carlyyr0se
Are you an employer? Post your fashion job here.
Are you a job seeker? Find fashion jobs here.
Don't forget to follow us on Instagram for the latest fashion jobs, career advice and fashion trends!