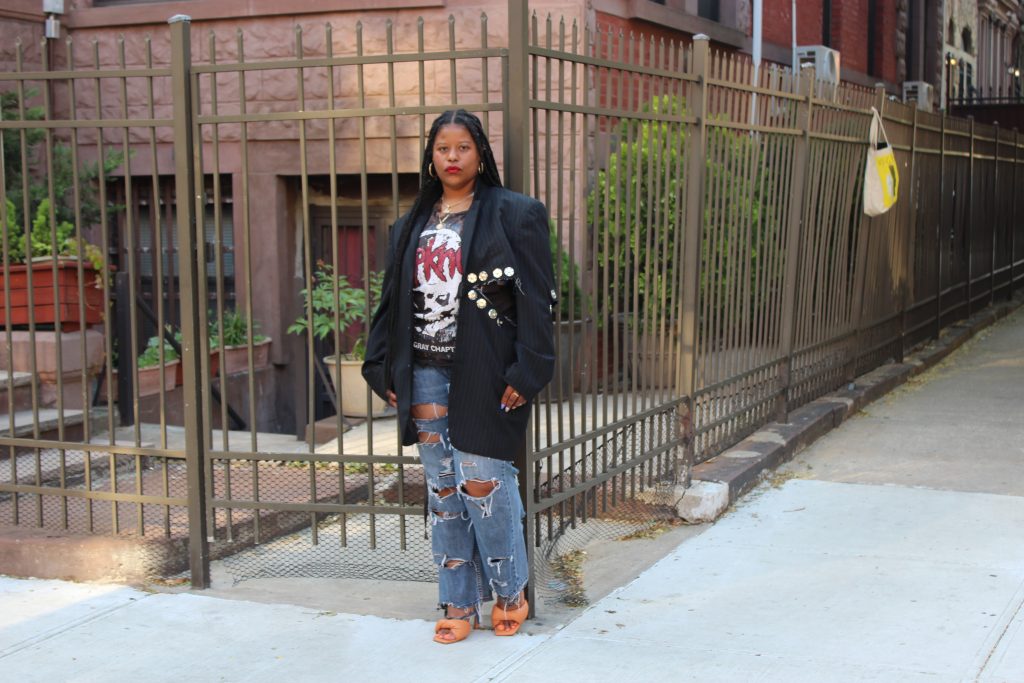 Hailing from fashion capital of NYC, Cieja Springer is the multi-hyphenate fashion professional that has forged an impactful career as a fashion purveyor, style expert, savvy marketer and writer. She also hosts and produces her podcast From The Bottom Up!™ where she discusses career advice and opinions on the latest in fashion with industry professionals. Over the past 16 years, Cieja has been behind major campaigns for companies like New York Fashion Week, Essence, L'Oréal USA/Paris, Maserati, Estée Lauder, Nordstrom, Rolex, Kering Group, Coty and LVMH/Hennessy.
We're happy to have Cieja join us to talk about her experience creating her the career she dreamed of, even when it did not exist in the traditional job market.
Style Nine to Five: Hi, Cieja! Thank you so much for joining us in this conversation. We are thrilled to have you share your story and expertise with Style Nine to Five! Going back to the beginning of your career, what inspired you to pursue a profession as a fashion purveyor and when did you make the career move?
Cieja Springer: As a lover of fashion and a fashion purveyor […] it predates any career choice as it's always been embedded in the very fabric of my being. My grandmother was a seamstress, so was my aunt; my uncles worked in the garment district after their tours of duty for this country in WW2 and the Korean war. I vividly remember skipping through Barneys and Bergdorf Goodman with my mother as a young girl. I still have the handwritten receipts. 
SNTF: What does it mean to be a Fashion Purveyor?
CS: While the true definition of the word "purveyor" means to be a provider or seller of goods, what it means to me to be a Fashion Purveyor in the synonymous fashion of the word (pun intended) is to supply information to the masses. Get them excited and engaged in fashion. I am spreading fashion knowledge and sharing my love of the space with others. If that is not a purveyor in its truest form then I don't know what is. 
SNTF: Some of our readers may not be familiar with the role of a fashion purveyor or expert. What does a typical day in your life look like?
CS: I look at clothes, specifically shoes all day long. I search for what a designer's inspiration was for a specific collection and aim to educate myself on which style was a part of which collection and who was the creative director at the time, simply for my sheer knowledge. I also follow Shelby Ivey Christie (@bronze_bombshel) for insight – SHE is the quintessential Fashion Historian. 
SNTF: You lead a very unique hustle. Not only are you a fashion purveyor and brand marketer – you also host and produce your podcast From The Bottom Up!™. What are some things you did to create the career you dreamed of and make it a reality for yourself?
CS: I stopped getting in my own way. I have a tendency at times to overthink, I'm a Libra, it's what we do (LOL)! I've never been one to be afraid and I wholeheartedly believe in failing forward. I'm always going to bet on myself and give myself a shot, even in my moments of doubt. Go forward. Press on. That is how I activate my faith. And I work daily to stay in gratitude. That brings my dreams forward. 
SNTF: Has the nature of your work changed since the fashion industry has begun evolving as a result of technology, more attention to sustainability and the effects of the pandemic?
CS: Technology has allowed for more access for my area of the industry. I'm talking with the movers and shakers across every genre of life and lifestyle about their dreams, goals, desires and their shoes! This hasn't affected my line of work, but based on the stories, especially those of individuals who made or had to make various pivots due to the pandemic are extremely inspiring.
SNTF: As a professional, what have you learned from being a fashion purveyor working for some of today's retail giants?
CS: It's critical to know what is happening within the space. Being knowledgeable about the past, allows you to have foresight into the future. As a marketer by trade, thinking ahead and providing consumers with the things we know they want is what a purveyor's key job is. It's why the true definition of the word is a provider or seller of goods – you have to be tuned in. You have to listen and you have to know!
SNTF: What is one piece of advice you would give someone who is working towards becoming a fashion purveyor?
CS: I would say research, research, research. And always remember you too are the consumer. What do you want to know?  What do you want to see? What do you wish people knew? Help put that information out to the world. And lastly, educate yourself. There are tons of programs within the space. Engage with them and consider enrolment. You can never learn too much.
We cannot thank Cieja enough for sharing her story and valuable insight with Style Nine to Five! If there's anything that we can take away from this exchange, it's the importance of knowing yourself and knowing your craft. Cieja has taught us to never stop learning and always give yourself a fair chance at success!
Inspired to start making moves towards your dream career, but not sure where to begin? Ask One Career Question to our Founder Christie Lohr for some personalized advice!
Anita Hosanna is a freelance fashion stylist and creative consultant with a love for community, fashion journalism and fashion tech.
Feature Image: Provided by Cieja Springer