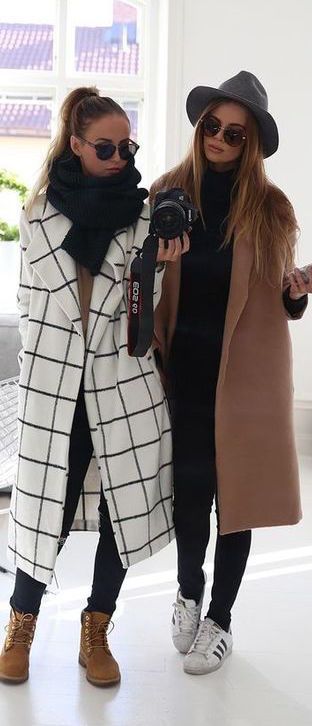 As January comes to a close, most of us are already tired of wearing our winter gear. Even through it's cold and dreary outside, it doesn't necessarily mean we should look how it feels outside. We still have two months of cold weather to go, so why not make the most of it by looking stylish even in your winter gear.
To make winter dressing a breeze, we've put together a few options that will keep you warm and office ready. From chic hats, to stylish boots, this post will have you ready to embrace the winter elements in style and to throw out that cliché ski toque!
Hats
Let's start this off from the top, shall we? Hats are a love/hate accessory. We love to wear them, but hate the flat hair that always accompanies the accessory. Wide brim hats are a great trend that doesn't seem to be going anywhere. Unlike the beanie (or toque), the wide brim won't cause your hair to stick close to your face. They also add a touch of sophistication – great for perfecting that "going to work" look. However, let's not cancel out the classics. You can get some great new slouchy styles that will keep your head warm, all while looking great, or add a touch to style with always cute beret.
Scarves
Scarves are a great winter accessory, simply because they come in so many fabrics, colours and styles. For the winter, cashmere and wool are favourites. They are warm and soft, saving our necks and lower faces from the chilly air. Scarves a great for the office because they can add some personality to an otherwise 'safe' outfit and can also keep you warm if you're feeling cold!
Gloves
As adults, we have come a long way from mittens with strings attached. Mind you, some of us may still use them as they save us from losing a mitt. However, they don't scream "office ready" or professional. So, what does? A beautiful pair of leather gloves. Or, should you not like leather, you can also find similar styles made in wool or synthetic fabrics. If you still love your mittens, try to find ones that have an added feature, such as a fur trim. It's a good way to dress up your winter outfit.
Boots
If there's one good thing about winter, it's that it's boot season! There are a lot of styles of boots, from ankle, knee high, to over the knee. To keep it work ready, try to stick to a trendier, and sleeker style. The heavy boots are warm, but tend to take away from the professional look. When dressing for work, pick a boot that still has treads on the bottom that are also warm. To keep them looking professional, find a pair that also has some fashion details, such as a riding boot with a shearling trim. If the weather is more wet and slushy, a pair of Hunter boots, with Hunter socks, will be sure to keep your feet warm and dry. 
Product Images
1. Brixton "Piper" Floppy Wool Hat, $81.30, available at Nordstrom
2. Halogen Slouchy Cashmere Beanie, $47.31, available at Nordstrom
3. TELIRI Infinity Scarf, $15.00, available at Aldo
4. Free People Loveland Plaid Fringe Scarf, $48.78, available at Nordstrom
5. Lord and Taylor Cashmere Lined Gloves, $59.99, available at the Hudson's Bay Company
6. GWILARI Fur Trimmed Mittens, $22.00, available at Aldo
7. COLINET Riding Boots, $79.98, available at Aldo
8. Hunter "Original Refined" High Gloss Rain Boot, $231.27, available at Nordstrom
Inspirational Image:
Image courtesy of Pinterest
Jennifer Williams, Toronto, @_jenniferwilliams
Are you an employer? Post your fashion job here.
Are you a job seeker? Find fashion jobs here.
Don't forget to follow us on Instagram for the latest fashion jobs, career advice and fashion trends!