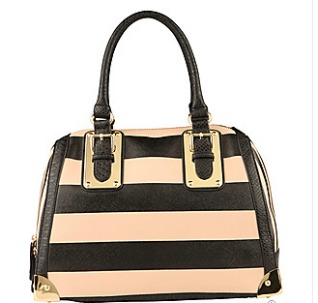 In this fast paced society, we sometimes find ourselves going from one commitment to another without any time to change. Whether they're last minute plans or something I've known about for weeks, I usually have the plan my outfit for the day accordingly, especially now that the holiday season is right around the corner. With all the parties and events coming up you'll barely have time to breathe let alone change, this is why work to play outfits and accessories are so popular nowadays. Nothing is worse than having to meet some friends after work or school and being completely underdressed or overdressed. This week I've rounded up some of my favorite day to play bags to share with our style nine to five readers. Trot these purses around all day then let them transition into the evening hours.
1. Nine West fold over bag Hudson's Bay
2. Adelaide handbag $60 Aldo
3. faux leather trapeze bag $33.80 forever 21
4. Imitation leather bag $40 H&M
5. 24 hour faux leather satchel $39.80 forever 21
6. Helondricks handbag $55 Aldo
By: Layan Barakat
Are you an employer? Post your fashion job here.
Are you a job seeker? Find fashion jobs here.