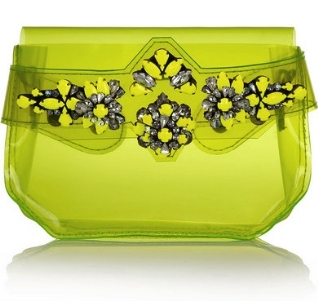 A clutch is the perfect accessory for the summer months when you don't want to carry around something bulky and heavy on your shoulder. This season clutches come in a variety of sizes, styles and eye-popping shades to brighten up your outfits!
The easiest way to incorporate a colorful clutch into your summer wardrobe is to pair it with a neutral outfit. For example, pair a bright pink clutch with an entirely black or white ensemble to give your look an intense pop of colour. Clutches with fun patterns, interesting textures and decorative hardware accents can also make a high-impact statement against a sleek and simple outfit.
If you're feeling a bit more daring, try wearing your vibrant clutch with a bold print for an eye-catching look. If a flashy print isn't your thing, you can also try the color-block approach by pairing your clutch with an outfit in a complementary colour. For example, a clutch in a purple hue would look great paired with a bright yellow sundress.
When sporting this trend, it's important to keep your fingers well manicured. Remember, they're on full display when you clutch that bag!
1. Mawi Studded Box Glitter Clutch, $840, available at Opening Ceremony
2. Shourouk Crystal-embellished PVC clutch, $735, available at Net-A-Porter
3. Matthew Williamson Embellished Metallic Leather Clutch, $1,650, available at Net-A-Porter
4. Rauwolf Degrade Gemstone Clutch, $1,470, available at Barneys New York
5. Zara Embroidered Evening Bag, $19.99
6. Co-Lab Talia Envelope Clutch, $65, available at The Shoe Company
7. Beta My Butterfly Printed Box Clutch Bag, $64.58, available at ASOS
8. Johnny Loves Rosie Contrast Color Envelope Clutch Bag, $62.79, available at ASOS
9. Talullah Tu Lyla Panther Box Clutch Bag, $98.67, available at ASOS
10. Ted Baker Benet Patent Clutch Bag, $105.85, available at ASOS
By: Faryn Wegler, Toronto
Are you an employer? Post your job here.
Are you a job seeker? Find fashion jobs here.