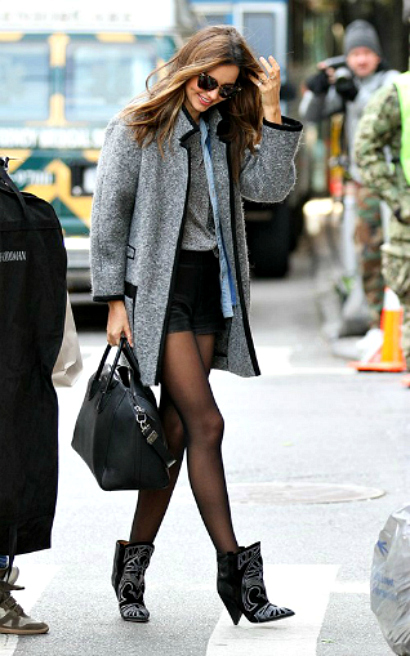 Mother Nature can make dressing stylish challenging in these beyond freezing temperatures, however, us fashionistas will not let her win! There are many trendy winter skirts and dresses for this time of year, but why leave your shorts for only hot and sunny temperatures when you can be rocking your legs during cold months as well? Leather shorts are a versatile piece to play with whether you're dressing up or down, they are a sure way to keep glamourous all year round.
Below is an inspiring list of suggestions of how to wear your shorts preppy or for a fun night out. I always suggest wearing tights with some fun pumps to get your look started!
1. Pair your shorts with a beautiful blazer, a top of neutral shade and frost your look with some fun costume jewelry and a colourful clutch or purse.
2. A silk blouse is classic and with a pair of leather shorts it just oozes sophistication. Add some red lipstick and you're ready to rule any event!
3. My personal favourite way to wear leather shorts is with a simple neutral top, layered with long necklaces and a cool clutch with my hair in a bun.
If you're feeling a little more laid back, a cozy knit sweater, tights and a pair of oxford shoes will keep you effortlessly chic and warm against the winter wrath.
With a variety of high waisted, colourful, embellished and classic black leather shorts to choose from, the possibilities are endless. Which look do you like best?
1. Style Inspiration: Miranda Kerr street style, image courtesy of Marie Claire
2. Style Inspiration: Rachel Bilson at New York Fashion Week, image courtesy of cityfashionista
3. Style Inspiration: Ashlee Simpson at a Samsung Galaxy Event, image courtesy of fashion.about
4. A.L.C. Smith Leather Shorts, $717, available at shopbop
5. Porter Grey Leather Trouser Shorts, $340, available at shopbop
6. Free People Vegan Leather Shorts, $101, available at shopbop
By: Michelle Morton, Vancouver
You should follow me on Twitter @MichelleEMorton.
Are you an employer? Post your job here.
Are you a job seeker? Find fashion jobs here.