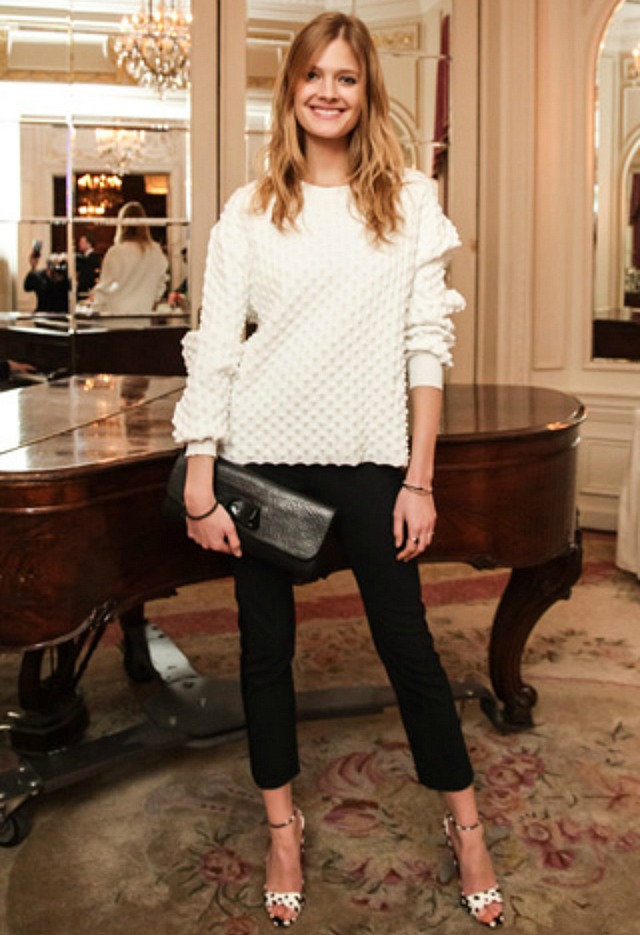 White in fashion has always carried a bad rep, it is either you love it or hate it, but honestly, the color is not for every body, so choose your pieces wisely. We have all seen the dreaded too tight white pant or the token 'wet white tee' contest! In fact, white is a classic basic that can really be chic if worn properly and I think we can thank winter fashions for doing so. Layering cream colored knits with printed pants or a sophisticated winter white peplum dress can really be a lovely style statement. When the weather is a bit drab, it can really brighten up an outfit and maybe even someone's day! Take a chance on white this winter, your wardrobe will thank you for it!
1. Style Inspiration: Constance Jablonski celebrating Derek Blasberg x Opening Ceremony in New York City, image courtesy of Style.com
2. 10 Crosby Derek Lam Crew Neck Jumper, $440, available at mywardrobe.com
3. Miu Miu Wideleg Trouser, $405, available at mytheresa.com
4. Banana Republic Belted Stripe Sweater, $145
5. AG 'Stevie' Ankle Trouser, $159, available at Anthropologie
6. Alice + Olivia Lace Bodice Peplum Dress, $176
7. Ted Baker London Peplum Dress, $245
By: Emily Gray, Vancouver
You should follow me on Twitter @litlmissfashn.
Are you an employer? Post your job here.
Are you a job seeker? Find fashion jobs here.