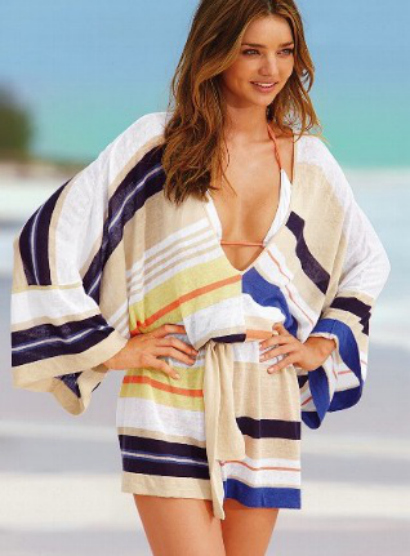 The short winter days and bone chilling temperatures alone is enough to drive us right out of our own country, seeking refuge down south. Tropical destinations such as The Caribbean, Mexico, and Costa Rica are ranked among the top most desirable places to visit this time of year. Shifts in seasons here in Canada, are enough to harm your skin and body overall. Before you jet off on your holiday, ensure you are well equipped to handle the drastic change in weather. Dig out those last season sandals, but indulge in something new to build up the anticipation before leaping on that plane. I know how hard it is to shift back into summer mode and therefore, I have rounded up some sunny essentials to add to your never-ending "to pack list". Who says you can't stay chic while immersed in the sand?
1. Christopher Kon Alisson Tote, $467, available at Shopbop
2. Miu Miu Bow-embellished Bandeau Swimsuit, $245, available at Net-a-porter
3. Victoria's Secret Striped Cover-up Sweater, $56
4. Becca Crochet Cover-up Pants, $75, available at Nordstrom
5. Eric Javits Oversized Straw Hat, $365, available at Saks Fifth Avenue
6. Celine Antique Rose Wayfarer, $345, available at Holt Renfrew
7. Tory Burch Linen Tunic, $275
8. American Apparel Chiffon A-line Maxi Dress in Charcoal, $70
9. Old Navy Women's Faux-Jeweled Flip-Flops, $10
10. Diane Von Furstenberg Opal Wedge Sandals, $304, available at Shopbop
By: Jenn McNaughton, Toronto
You should follow me on Twitter @JennMcNaughton.
Are you an employer? Post your job here.
Are you a job seeker? Find fashion jobs here.