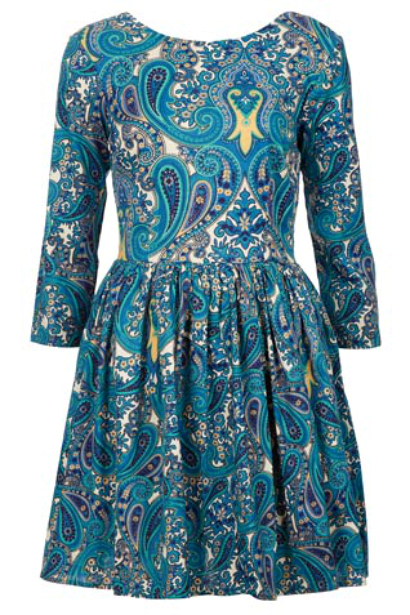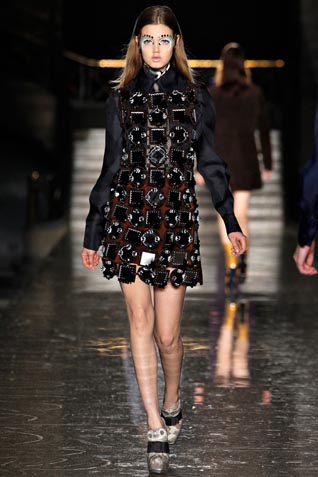 Picture yourself in a boat on a river with tangerine trees and marmalade skies… This season's fascination with kaleidoscopic prints recalls the Beatles' 1967 chart-topper, Lucy in the Sky with Diamonds, riffing on elements of perspective and tantalizing the eye. Marc Jacobs and Miuccia Prada both conjured this look on Fall 2012 runways and added a finishing element of holographic appliques for a modern take on the decade. Variegated prints pack a punch, offering a blend of whimsical Bohemia and prismatic futurism. Try pieces with opalescent embellishments, like the gems on Anthropologie's beaded clutch, as these details elevate the Sixties inspired aesthetic, for a novel approach to the frequently revisited era.
1. Style inspiration: Prada Fall/Winter 2012, image courtesy of Style.com
2. Anthropologie Lens Beaded Clutch, $80
3. Free People New Romantics Dress, $226
4. Isabel Marant Ikat Dress, $500, available at Matches
5. Miu Miu Printed Mohair Wool-Blend Jacket, $1,125, available at Net-A-Porter
6. Topshop Paisley Print Skater Dress, $72, available at The Bay
7. Pencey Slim Printed Pants, $205, available at Shopbop
By: Ali Leier, Vancouver
You should follow me on Twitter @alileier.
Are you an employer? Post your job here.
Are you a job seeker? Find fashion jobs here.