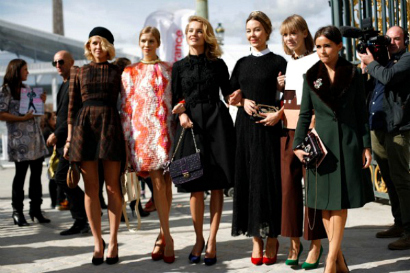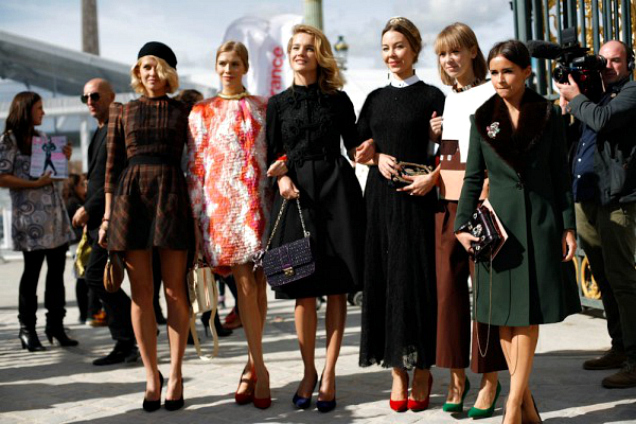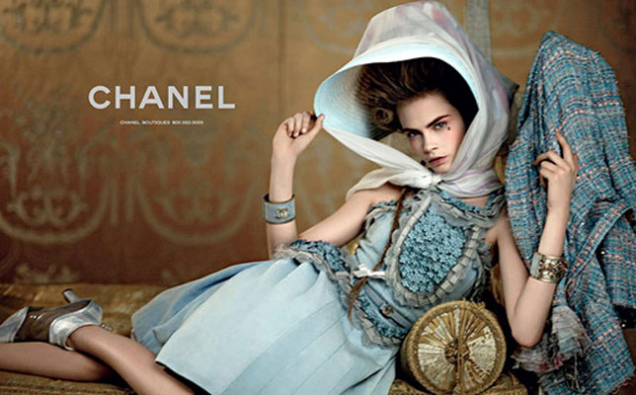 Over the Spring 2013 Fashion Weeks, the Russian fashion elite, deemed by the New York Times as the 'Russian Fashion Pack', dominated street-style blogs due to their opulent ensembles and zany choices – think wild prints, brocade, fur, jewels, hair accessories and killer shoes. The look has already transpired well into fall, see our post on baroque, but hot on the heels of the holiday season's epic blockbuster, Anna Karenina, the Russian-inspired aesthete has blown-up. If this highly anticipated cinematic adaptation, which spawned it's own capsule collection at Banana Republic, turns out anything close to last year's obsession with Lisbeth Salander, this look is here to stay.
The Tolstoy classic has been reimagined, chock full of dreamy designer pieces from vintage Dior to Chanel. It also marks the acting debut for model of the moment and Karl Lagerfeld muse, Cara Delevigne, featured above in Chanel's resort campaign. I love Karl's dreamy take on the look, his pastel hued version of the Chanel tweed jacket, mixed with silk and feathers is to die for. I love the modern whimsical take on the troubled ingénue.
1. Style Inspiration: The 'Russian Fashion Pack,' Polina Kitsenko, Elena Perminova, Natalia Vodianova, Ulyana Surgeenko, Vika Gazinskaya and Miroslava Dumaa, image courtesy of Zimbio
2. Style Inspiration: Cara Delevigne for Chanel Resort 2013, image courtesy of Grazia UK
3. Holt Renfrew Faux-Fur Scarf, $55
4. Valentino Studded Leather Pumps, $995, available at Net-a-Porter
5. Club Monaco Kiera Beaded Skirt, $249
6. Haute Hippie Lace Metallic Leggings, $294, available at Shopbop
7. J Crew Flower Lattice Necklace, $268
8. Banana Republic Beaded Clutch, $90
9. Burberry London Trench Coat, $1,795, available at Net-a-Porter
10. Maison Scotch Shearling Vest, £200, available at ASOS
By: Ali Leier, Vancouver
You should follow me on Twitter @alileier.
Are you an employer? Post your job here.
Are you a job seeker? Find fashion jobs here.