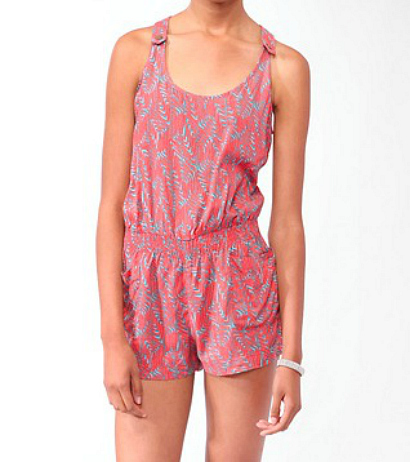 With the last long weekend of Summer rolling in to town this Labor Day, it is imperative to pack chic and light for your weekend away. If you are a fashion maven like me, however, you likely also have a problem when it comes to packing on the lighter side with just the right pieces to not only feel comfortable and relaxed, but also stylish as well. For maximum results this weekend, ensure you have included fashionable, essential pieces to use for that last Summer heat, and bring the right mix to match looks for creating easy, effortless outfits. Here is the low down on three looks you should definitely wear while away that will keep you looking cool and leave room in your carry-all this Labor Day. Happy long weekend, 'Nine to Fivers!
For a casual day in town:
1. Forever 21 Romper, $20
2. J.Crew Chambray Clambake Skirt, $50
You'll want to dress cozy and airy, since you'll likely be in and out of the sun all day, however you also want to keep your look stylish. Try a chic chambray skirt or a lightweight romper in a geometric pattern, and keep your hair and make-up natural and casual, as you needn't try too hard for this one – effortless is the key to looking and feeling great.
At the Beach:
3. Mossimo Womens Mix and Match Triangle Swim Top, $18, available at Target
4. Echo Bathing Suit Cover-up, $48
Have you spent all summer in the same bathing suit, now well worn? Not to worry – you can find an array of suits on the sale rack right about now. Don't forget to pack a punchy cover-up in a neon color and that tube of SPF to protect your precious skin. Hair and make-up is again natural and tousled for this look since you never know who might throw you in the water.
If you're traveling:
5. Citizens of Humanity Racer Skinny Jean, $229, available at ShopBop
6. Sam Edelman Gigi Sandal, $65, available at ShopBop
Always stick to the basics, not only to breeze through security, but because it really is the most sexy look, in my opinion. Nothing beats a confident girl in a great jean and just the right amount of key accessories. In this case a fun, flat gladiator sandal and you're good to go for the entire long weekend!
Inspiration images of Miranda Kerr and Jennifer Aniston courtesy of WhoWhatWear and The Jet Set Girls
By: Emily Gray, Toronto
You should follow me on Twitter @litlmissfashn.
Are you an employer? Post your job here.
Are you a job seeker? Find fashion jobs here.