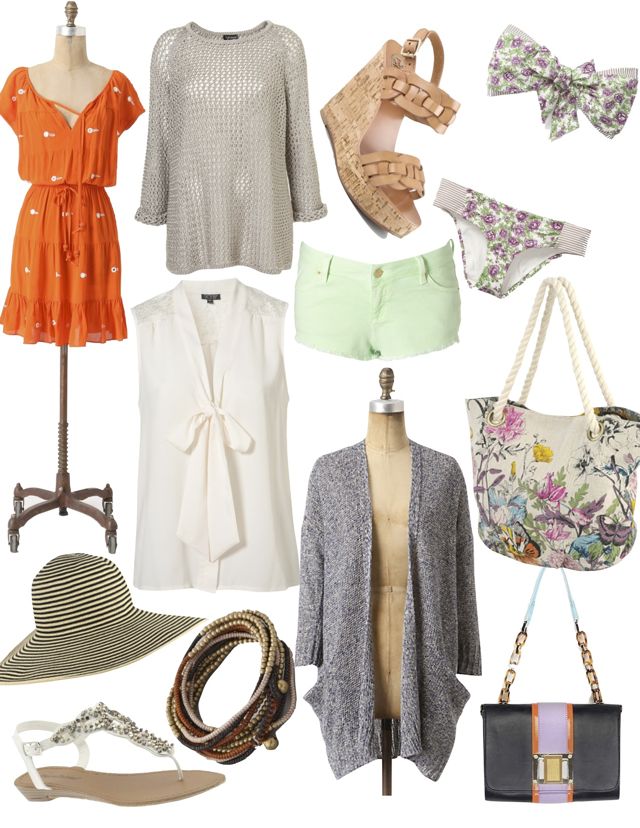 Going on Vacay? Here's what you should bring (Tropical Edition!)
Traveling this spring/summer? Sometimes we all get a little anxiety over what to pack and what outfits we're going to wear! If you're going to a resort, the items below are what you need, no more, no less! Stop stressing about it, I even created outfits for you! Always pack versatile pieces. The embroidered chiffon dress in a bright coral is perfect for dressing up or down, and you can even layer a pullover over top to make it look like a skirt. Also, it's easy to pack, and if it wrinkles it's not noticeable (chiffon is easy to get wrinkles out of too!) Bring a comfortable flat sandal, and a dressier wedge sandal to take your look from day to night, and always remember to bring a tote beach bag, but also a cute bag to take if you do some sight-seeing in town. Another versatile piece that I adore is the wrap bracelet, it's one long strand which means you can wear it as a necklace too!
Outfits 2.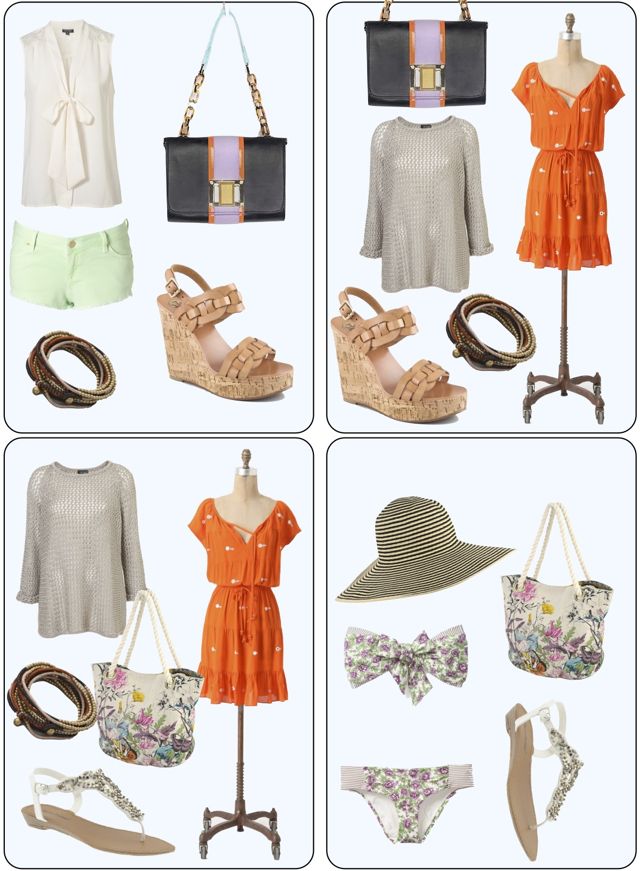 1. Anthropologie Dress, $158
2. Topshop Mesh Pullover, $57
3. Topshop Cutoff Shorts in Mint, $35
4. Topshop Sleeveless Bow Blouse, $51
5. Anthropologie Swimsuit, $88
6. Anthropologie Knit Cardigan, $118
7. Urban Outfitters Color-Block Bag, $59
8. Piperlime Beaded Sandal, $25
9. Tory Burch Wedge Sandal, $306, available on Shopbop
10. Forever 21 Printed Tote Bag, $28
11. Serefina Wrap Bracelet, $54, available on Shopbop
12. Forever 21 Striped Floppy Hat, $16
By: Jo BouSaleh, Vancouver of Hunter and Hare
Are you an employer? Post your job here.
Are you a job seeker? Find fashion jobs here.