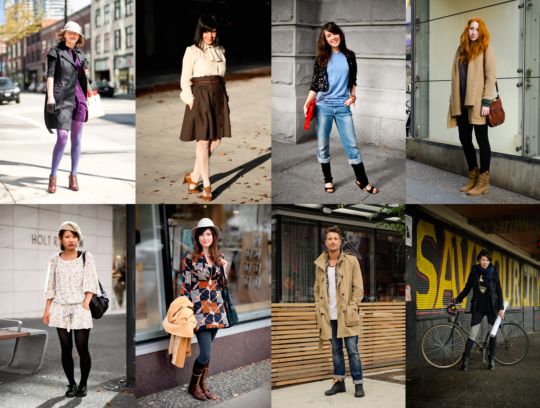 If you're a Vancouverite and have the slightest inclination for fashion, you've undoubtedly already heard about Style Quotient and the man behind all the magic, Paul Melo.  Read on to catch a rare glimpse into what Paul looks for in his photo subjects, his thoughts on Vancouver style, and more!
Aside from having great style, what is it about a person that makes you want to shoot them?
It's more about the person's presence amongst the street crowd, the moment, and yes, their style.  Sometimes I see someone in a perfect sliver of sun or reading a book on a park bench and enter their world for a moment.  More than anything I look for personality.
If you had to sum up Vancouver's style in one word (or maybe two-three), what would it be?
Hip Casual.  I seldom see people 'dressed-up'.  It's more a mix of 'on-trend' and hipster.  I would love… L-O-V-E to see more women in dresses (pretty dresses) as day-wear.  In Vancouver women are more apt to dress-up to go out at night.  For some reason the fashion sense has come together into a conservative safe-zone.  I would also love to see men dress it up.  Even when men do wear suits, they are seldom tailored or bespoke.
What drew you to street style photography in the first place?
I'm originally a natural light portrait photographer that has been focused on graphic design over the last many years.  As a designer, I spend most of my time in front of the computer.  I wanted to re-connect with people and shoot more.  Photography is my first love and although I love fashion, I don't love the synthetic process of shooting 'fashion' as fashion photographers do.  While on a trip to New York to visit a friend who is a creative director at a major fashion magazine, I was complaining of the lack of unique, character locations in Vancouver to shoot fashion.  She challenged me to think more creatively.  So a couple of weeks later I hit the streets, StyleQuotient.ca was launched and within a month it was garnering six-figure traffic.
I also prefer the authentic nature of street style photography.  For me, shooting people in natural environments under unpredictable conditions is just more fun.  Almost every time I've ever done a pre-planned studio fashion shoot I've been disappointed in the result.  Not because the model wasn't beautiful, or the photos didn't come together, but because it rarely feels natural.  It's not their clothes, not really their style and more about trying to accommodate everyone's ideas.. make-up, hair, styling, the model, the client… on and on.
Photography is about a moment.  A photographer with nothing but a camera and their eye is more artful than a studio full of gear and people playing a part.
My last few 'fashion' shoots have been with real people I discovered on the street.  Just me, the subject, and their own closet.
Name your three go-to locations in your city for street style shooting.
Easy…the art gallery and surrounding intersections, the stretch of Granville between Smithe and Cordova, and Yaletown (because I live there and always find people roaming around my stomping ground.)
If you had to give one style recommendation to our readers, what would it be?
Just one?  Wear clothes that fit, great shoes, and a nice bag.  One or two quality accessories can turn most looks into style.
~ Paul Melo | StyleQuotient.ca
By: Alexandra Grant, Vancouver
You should follow me on Twitter @ToVogueOrBust.
Are you an employer? Post your job here.
Are you a job seeker? Find fashion jobs here.