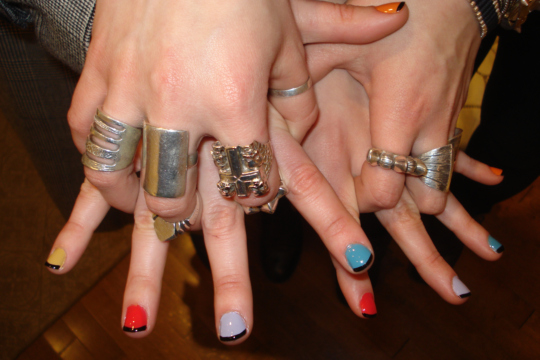 Violet Boutique is home to your three new best friends. Their names are Suno, Fetherson and Whit. Suno is eclectic, she likes to mix prints, wears hats when she gardens and is not afraid of colour. Fetherson is outgoing and flirty – she is the type of chick that will make boys drop to their feet with her feminine dresses. Whit is a simple gal, she prefers the outdoors, is inspired by the seventies and likes to keep things clean and classic.
I had the pleasure of meeting these lovely "ladies" and a few others during their introduction at Violet. With enough treats to leave you with a sugar high, Pink champagne, and nail art by Christina Culver, the soiree was the ultimate girl's night out.
Violet Boutique is located at 3012 Granville Street, Vancouver.
1,2. Suno, Erin Fetherson and Whit at Violet Boutique.
3. Genevieve and Stephanie of Violet Boutique.
4. Belinda and Adele Tetangco of Dace Clothing and consultant for Blank Communications.
5. Joy Pecknold, Western Editor of FASHION and Deanna Palkowski, Fashion Stylist.
6. Anya Georgijevic of I'm the It Girl and her intern, Shakeira.
7. Nicole Durnin, owner of Lynn Steven and Sunny Shum of Partly Sunny and Style Nine to Five.
8. Lisa Wong of Solo Lisa.
9. A very stylish couple – Michelle and Matt.
10. This party-goer is one of my picks for best dressed of the evening – love how she mixed prints with bold jewelry!
11. Nails by Christina Culver on FASHION's Joy Pecknold and stylist Deanna Palkowski's killer rings.
By: Valerie Tiu, Vancouver
You should follow me on Twitter @valerietiu.