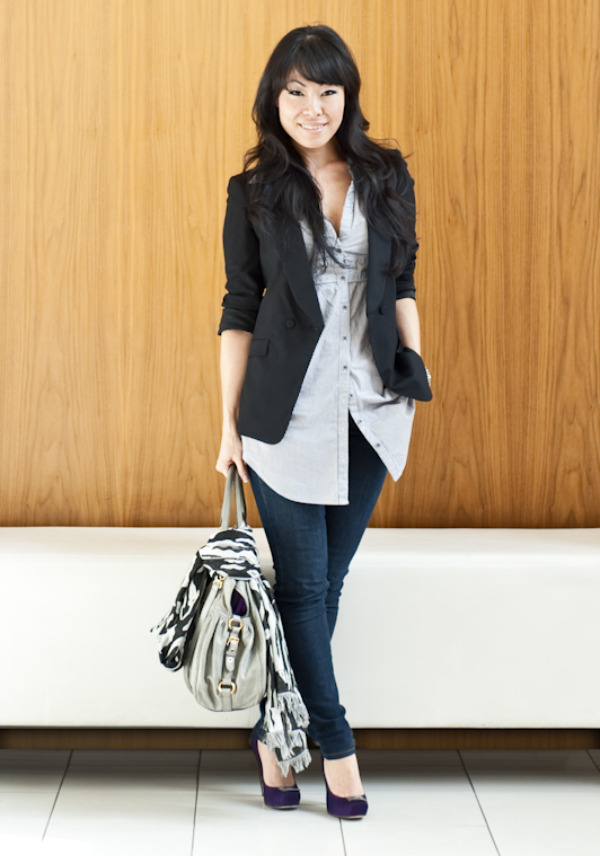 It's really difficult to put in a nutshell all the responsibilities and steps that are involved in a buying process. Buys are usually done 6 to 8 months in advance, therefore pre-planning and working closely with the planning department is crucial. Although I am continuously purchasing product for the stores all year round, the core of my business is worked and written within a span of 3 – 4 months.
8:30 am – 10:00 am
My mornings start off like any other regular day in the office, answering emails and returning phone calls. I find mornings are the best time to get the hard stuff out of the way. There are ALWAYS problems to attend to, either I am handling some sort of shipping issue, dealing with store requests or negotiating terms and prices with a supplier, sorting out problems are part of my day to day. Having to be a well oiled multi-tasker is truly an understatement in this position.
10:00 am – 2:00 pm
Most of the time, I make my viewing appointments in the morning so that I am able to review the programs later in the day. I am either traveling at a trade show or visiting local showrooms when I am viewing and working product. I make notes, take photos and have any important conversations that are necessary in order to move forward in doing business. The trick and one of the biggest challenges here is working and scheduling all my appointments within a certain time frame. The stressful part of my job is due largely to the deadlines that are imposed on me – Timing is everything in this business.
Once I get back to the office from appointments I spend the rest of the day reviewing budgets, analyzing reports, styling out programs, writing out details and doing costing. Most are unaware of all the reporting and analysis that is involved with buying. This is a crucial part of the business and takes up 80% of my time while the selection process is the other 20%. It's a big challenge trying to integrate fashion trends, number crunching and "gut feeling" into a future buy.
2:00 pm – 3:00 pm
Part of a job as a buyer is to also inspect samples. Besides buying "branded" product I also "develop" an in-house label and I deal with an overseas office on a daily basis. The overseas office sends developed samples to me and I have to inspect every detail of the shoe. How does fit? Are the materials ok? Are the colors matching to what I requested in the first place? Am I happy with the overall quality? Attention to detail is very important here as you do not want to approve something that can potentially become a problem down the road.
3:00 pm to 5:00 pm
Later in the afternoon other team meetings may take place with other departments like marketing, which usually entails a discussion on future promos and ad campaigns. I also meet with the planning department to discuss budgets (especially important if I need more money to make my purchases). End of day is also when I typically arrange time with the CEO to present programs for approval. A brief style, pricing and quantity run down is done and once approved, the order is ready to be written up and entered.
As you can clearly see there are several steps that are taken in the buying process and sometimes not in any particular order. I hope that I was able to provide you with some insight as to what happens on a day to day basis in this business and in this role.
By: Sunny Shum, Footwear Buyer for Sterling Shoes Inc & Blogger for partlysunny.ca
photo: Paul Melo, melocreative.com
About Sunny…
Sunny Shum currently enjoys a professional career as a Footwear Buyer for a Sterling Shoes Inc. There is no doubt her immense love for shoes and passion for the fashion industry has guided her through her successful and diverse career path.
Sunny's foray into the fashion industry began when she got a jump start to her career, working at Aritzia as a visual merchandiser. After her 4 year stint, this launched her into her next opportunity, managing prestigious European denim brands such as Miss Sixty, Energie, Killah and Sixty for Western Canada and also working with footwear brands like, Diesel, Ed Hardy, Faryl Robin, Palladium and Le Coq Sportif.
While working full-time, Sunny concurrently made the time to produce fashion shows, provide marketing services for fashion related events as well as managing and contributing to her on-line lifestyle and fashion blog. Sunny quickly became the "go to" person for her network of peers and colleagues for 'Industry Insider's' tips on anything to do with fashion and lifestyle.
www.partlysunny.ca is an on-line lifestyle & fashion blog based out of Vancouver, BC for the fashion conscious and sophisticated woman, specializing in providing up to date fashion and lifestyle tips from a 'professional industry insider' – partlySunny is your style forecast.
Are you an employer? Post your job here.