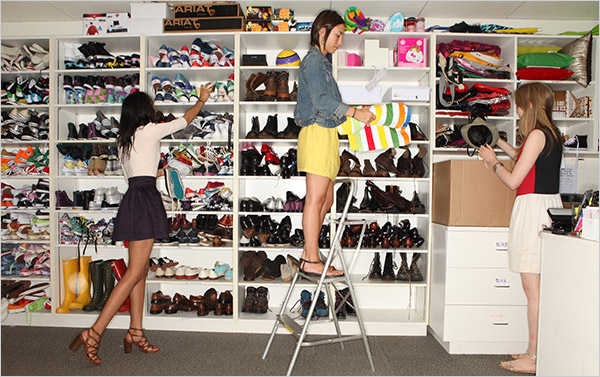 I am no Whitney Port. Unfortunately, I do not spend my days amongst famous fashion publicists, or work in an office surrounded by designer goodies, nor are there cameras that follow my every move. But I will tell you that I consider myself to be a "professional fashion intern" of sorts. I have held past internships with a local magazine, a designer and a slew of stylists, not to mention, various fashion "volunteer" jobs for events, production and marketing. Many of us know that the industry is not as glamorous as it looks, but I'm not exactly proficient in Starbucks lingo either.
One of my recent internships was with a local fashion designer, assisting her with the business and marketing aspects of her label. Here is a little taste of a day in the life of interning:
8am: Time to get up and get ready. Working in fashion means dressing with style, and intern-day is no exception. Expressing your personal style while interning creates a good impression on employers and demonstrates your knowledge about fashion.
9am: I grab a coffee and read up on a few blogs and current news. Fashion is shaped by many aspects, so I always make sure that I'm in the know!
10:30 am: I arrive at the office or meet my boss at a café, where she gives me the "low-down". We discuss current projects, updates on prospects and gives me tasks to complete for the day.
11am: I begin my daily tasks. These include office duties like emailing, research, and creating spreadsheets. I often write blurbs for media, help out with press kits and update our blog. If it's time to think about future collections, I help brainstorm and research ideas. Sometimes I create a storyboard, which serves as source of inspiration.
1pm: Break-time!
1:30 pm: Now is the time when I run errands around the city. During production, we might visit the sample-maker to ensure that everything is on track. If we are close to photo shoot time, I might be organizing the collection, steaming clothes and pulling accessories and footwear from other vendors.
4pm: We wrap up the day with an overview of what needs to completed for next time. We might also sneak in some time to chat about the latest episode of Project Runway….
Being willing to intern results in big payoff at the end. Interning has not only provided me with a well-rounded resume, but also with an abundance of opportunity, knowledge about the industry and many valuable contacts. So get out there, intern, network and be willing to work!
By: Valerie Tiu
Valerie Tiu is a Vancouver-based Freelance Fashion Writer and Stylist. She works in Marketing and PR for Noir Bonbon Apparel and is a Contributing Writer for ChristieLohr.com.
Are you an employer? Post your job here.