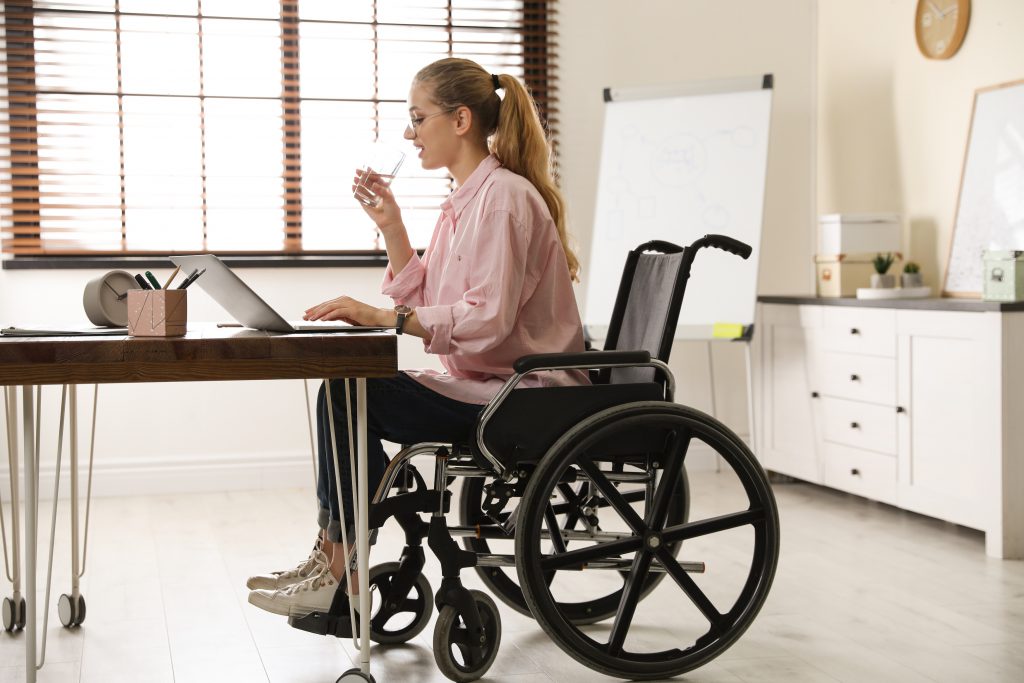 Creating a diverse workplace is beneficial for so many reasons—your business benefits from a wider range of ideas and perspectives, your employees feel a sense of inclusion, and your company becomes a positive role model for other businesses. A truly diverse workplace includes employees of any race or class, but of a variety of abilities as well.
Hiring someone with a disability can be intimidating if you haven't had much exposure to people with diverse abilities and you don't know what to expect. If you're a hiring manager or small business who wants to fully diversify, let's look at some of the benefits of hiring a person with a disability and how to overcome some of the misconceptions and barriers to entry that you might be facing.
Dispelling Misconceptions and Recognizing the Benefits
To learn more about what employers should know about hiring a person with a disability, I had the benefit of speaking with Jamie Millar-Dixon, an Inclusive Workforce Consultant for BC Partners In Workforce Innovation (BC WiN)—an organization dedicated to helping employers connect people with disabilities with employment. She shared some important insights and advice for what businesses owners should know to successfully employ and support people with disabilities.
The first thing I asked Millar-Dixon was what the biggest misconception employers have about hiring a person with a disability. Her response highlights the benefits over the perceived downfalls:
"I believe the biggest misconception is that people with disabilities would perform at 'less than' other coworkers.  That, combined with the perception that it costs a lot, it takes more time on the part of the manager, and not knowing where to find talent gets in the way of inclusive hiring. Whereas research shows that most accommodations cost nothing at all, and inclusive workplaces actually have better business outcomes. They are twice more likely to meet or exceed financial targets, six times more likely to be innovative, and also six times more likely to effectively anticipate change. That same research shows the people with disabilities are great employees with 72% higher staff retention, 86% had equivalent or better attendance than peers and 90% performing at equal or better than coworkers. I always ask, can a business afford not to be inclusive?"
Four Pillars to Becoming an Inclusive Employer
It's clear to see the benefits of hiring employees with disabilities to diversify your workplace as a means to boost retention, enhance employee satisfaction, and exceed in meeting objectives. That said, I asked Millar-Dixon about how employers can overcome their obstacles to creating a welcoming workplace and she explained four pillars that business owners need in place for these hires to work.
1 – Commitment
Commitment involves making a conscious decision to create a foundation for inclusion within your business and solidifying that you're going to put the work in to create a diverse and welcoming environment.
2 – Readiness
This step involves preparing your organization for change and identifying to yourself and your current employees that you're widening your diversity, and helping to educate them on what to expect and how to navigate their own concerns.
3 – Recruitment
This step is all about adapting your current recruitment practices to reach out to people with disabilities and help them identify your business as one they are welcome to pursue an application with. Millar-Dixon pointed to several resources to help businesses shift their recruitment practices and brand themselves as an inclusive employer. "I suggest reviewing hiring practices to make sure their accessible and not presenting barriers for great talent to apply to work with the business," she says.
Millar-Dixon pointed to The Untapped Talent B2B Guide on Innovative Hiring and Retention as a practical resource for employer recruiting strategies, including:
• Identifying job requirements
• Creating job descriptions
• Applicant assessment
• Prospective employee screening
• Types of interviews that will be most effective for both parties
• Onboarding procedures
4 – Retention
According to Millar-Dixon, retention is an often overlooked, and very important, part of being a successful manager and employer of your newly hired employees with diverse abilities. "This pillar focuses on ensuring the workplace culture focused on retaining talent," she says. "Too many organizations just focus on recruitment and don't do anything around how to prepare the organization in terms of physical space, hiring and operations managers, and enabling all employers to make a shift in how they've typically done things in the past," she adds.
Millar-Dixon and other agencies acknowledge that not every employer is naturally equipped to do this. If you're not sure how to approach this, you're not alone. "If that expertise doesn't come from within an organization, contract with external consultants who can help with that," she recommends.
Management Best Practices
Attracting employees with diverse abilities is part of the equation, but, as mentioned, retention strategies are part of the long-term success that will help you and your employees reap the benefits of your diverse workplace. I asked Millar-Dixon what an employer can do to ensure that they're providing the right support and tools when supervising an employee with a disability.
"ATP – ask the person," she says. "What can I do to best support you? What would require you to do your best work. What adjustments, if anything, could we make to ensure you have the ability to do your best work?" are some of the conversations she suggests having, and it makes sense to speak to that individual about their needs rather than making your own assumptions. "By incorporating these types of question in interviews [or on the job], you are coming from a positive, strengths-based approach," she says.
Additional Resources
With the growing desire to create an inclusive workplace comes with plenty of support for employers, including these resources that include templates, toolboxes, and checklists for training strategies, performance management, job postings, and workplace communications, among other things. In addition to the resources linked in this article, some others include:
• The President's Group,  which allows you to tailor hiring and retention solutions based on the size of your business.
• The Canadian Association for Supported Employment (CASE),  that offers downloadable tools and templates along with practical tips for supporting inclusive employment.
If you're an employer who wants to attract employees with diverse abilities, consider how you structure and word your postings. With Style Nine to Five's Job Description service, Founder, Christie Lohr, learns about your specific requirements and creates a description that you can confidently post to ensure you're attracting a wide range of diverse candidates.
By: Jeanine Gordon – Jeanine is a freelance writer and editor with a passion for creating stellar content for global brands and small businesses alike – specializing in fashion and lifestyle.
Feature Image: Adobe Stock