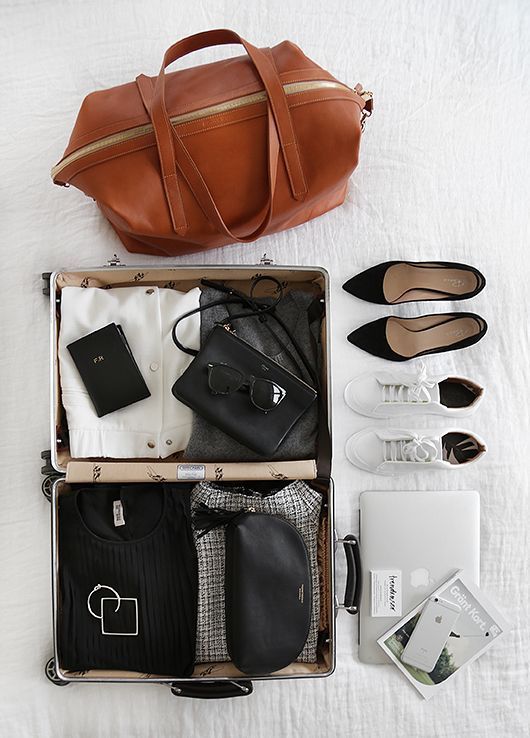 Find fashion job advice, internship opportunities, fashion job listings, style careers, retail jobs, job advice, fashion design jobs, social media and marketing internships, stylist and buying jobs and many other fashion jobs onStyle Nine to Five!
In the bustling world of fashion, it's not uncommon to be required to travel for your work. As exciting and fun as this may be, travelling can also be extremely stressful- the planning, the organizing, and not to mention the packing! Work trips are always jam-packed with long days, and you'll always seem to find yourself on-the-go. You're best to plan ahead, and be prepared for anything. With these travel essentials packed in your bag… you're sure to be happily on your way, with your stress left safely at home. 
Carry-On Companions
• Snacks! Keeping yourself nourished and fuelled up for the long hours ahead is key.
• Water bottle (don't forget to bring it to the airport empty, and fill it up after security)
• Face mist- keep that skin hydrated (under 100 ml!)
• Peppermint essential oil/roll on- this will keep you feeling awake and energized… plus if you get a headache, peppermint is your best friend!
• Gum- so your ears don't pop, and your breath is fresh right off the plane!
• Headphones- plane rides are the perfect time to catch up on a podcast or e-book, stay up to date on current events and happenings in the industry before heading to your conference or meetings.
Hotel Room Necessities
• Face mask- no one likes the feeling of dry, irritated skin after the airplane. Use a face mask after you land to be perfectly fresh-faced for your busy work schedule ahead.
• A book or magazine- although you may not have much spare time, hotel rooms can be lonely! At the end of a busy day, unwind before bed and unplug from your work (and social media while you're at it!) with an easy read.
• Comfy clothes- at the end of a long day, (especially when you're away from home!) there is nothing better than curling up in your favourite sweatpants… you may even want to bring your bathing suit if your hotel has a hot tub. Talk about the PERFECT way to de-stress!
• Sleeping mask- no one ever seems to get a good sleep in a hotel room, but a sleeping mask that blocks out the light will totally help you to relax and get a good night's rest!
• Slippers- you never know where you'll be staying, or exactly what's on the floor beneath you…
Don't Forget Your Business Attire
• Black pants- without fail, a sharp pair of black dress pants are going to keep you looking professional in any situation. If there's any uncertainty with the dress code on the trip, you can never go wrong with black pants.
• Your favourite blazer- pack a blazer that you feel totally confident in… one that makes you feel like a million bucks!
• Black shoes- ones that are comfortable! Pick something versatile that will go with everything (shoes are heavy to pack!) but will also lend to long days on your feet.
• Simple tote bag- bring a basic but cute tote that can carry everything you need for a full day or meetings, presentations, or whatever you have planned (or unplanned!) You're probably best to travel with something that can carry everything from notebooks, to snacks, to extra shoes or a sweater… just in case!
• OH! And don't forget to bring along your business cards or personalized contact cards (we can create these for you!), and any notes or presentation materials, your laptop, and quite simply (but importantly) a notebook and pen!
With these simple yet essential items packed in your bag, you'll be ready to put your best foot forward on any work trip!
**Image via www.hercampus.com
By: Heather Murray @heatherungraceful
Are you a job seeker? Find fashion jobs here.
Are you an employer? Post your fashion job here.
Don't forget to follow us on Instagram for the latest fashion jobs, career advice and fashion trends!