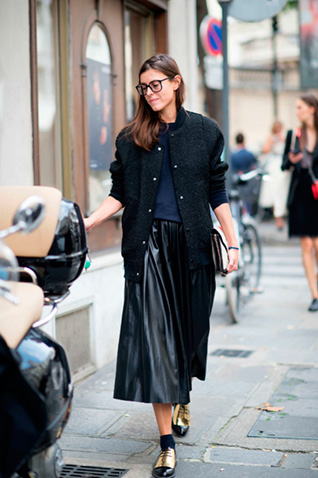 Who doesn't love a good bomber jacket, right? They can give almost any outfit the right dose of street-style cool and are a welcome change from the bulky parkas that we're forced to wear during this time of the year. Plus, as far as jackets go, bombers are really comfortable. Chances are you probably have one or two (or maybe four) of them in your closet, but how often have you worn a bomber jacket to work? If you're like most women, the answer is probably not often. Despite the weekend vibe that they exude, bombers are absolutely appropriate for the office. With so many one-of-a-kind designs made from luxurious fabrics, wearing this It-jacket to work is a breeze. But, if you're in need of some style inspiration, I've assembled a week's worth of outfits that will show you just how easy it is to wear a bomber to your nine to five.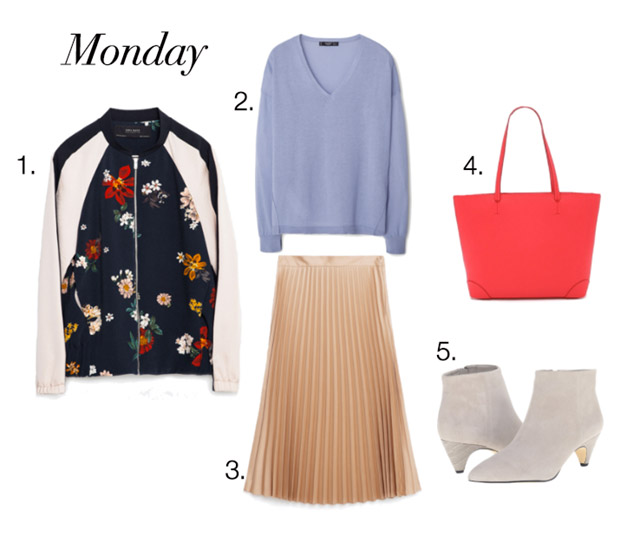 Gone are the days when bombers were just for tomboys—the modern spin on this classic jacket is quite feminine. For a look that is truly ladylike, wear a bomber jacket with pieces of a complimentary aesthetic, such as this pleated midi skirt. Incorporate knits and a pair of booties into the outfit to make it winter appropriate.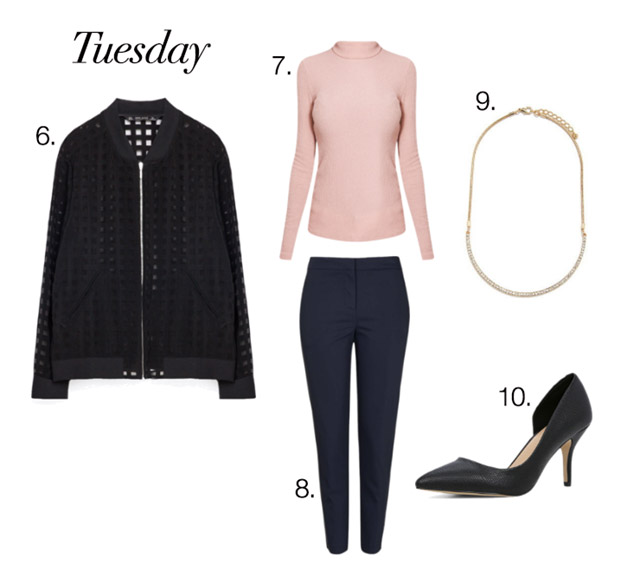 Give your Tuesday outfit some oomph by adding a bomber jacket with intriguing and unexpected detailing. I love this one from Zara because the sheer squares allow you to craft a print that you can modify time and time again—it's the perfect #TransformationTuesday piece. For instance, create a bold grid print by wearing a bright top that allows a bit of colour to peek through the sheer detailing of the jacket. The following week, restyle it by throwing a floral print top into the mix for a very mod look. With this bomber, the possibilities are endless!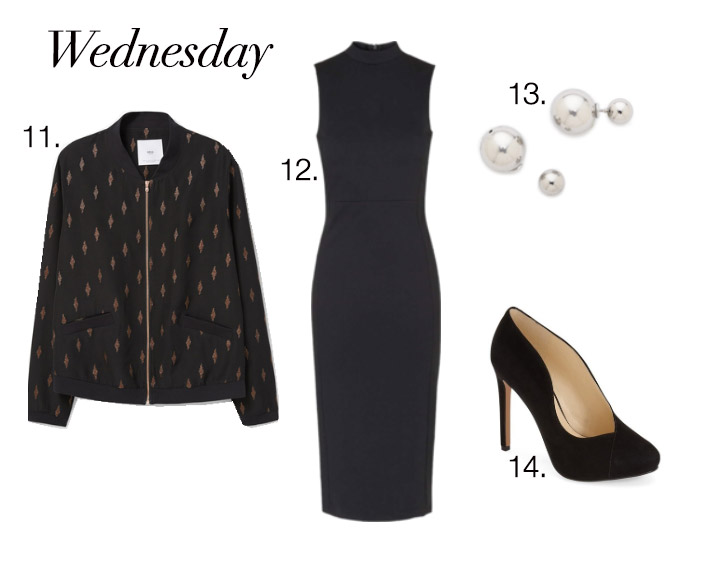 It's the middle of the week and after two hectic days at work you're probably exhausted and can't be bothered to make the office hallway your personal runway anymore. On those lazy days I tend to break out my trusty office LBD (Little Black Dress), which, despite being a total and complete lifesaver, is a pretty boring dress. Remix your go-to frock with a bomber jacket that has a bit of shine or beading, such as this one from Mango. The metallic embroidery can help breath new life into a plain dress that you've worn one too many times.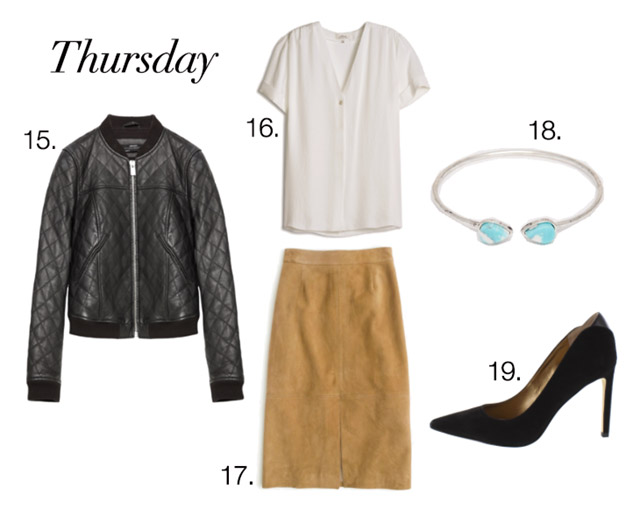 Have fun with your office attire by mixing hard and soft textures. A quilted leather bomber jacket adds an edgy feel (but not too much since we are at work, after all) to an ensemble with delicate and luxe fabrics like suede, chiffon and silk.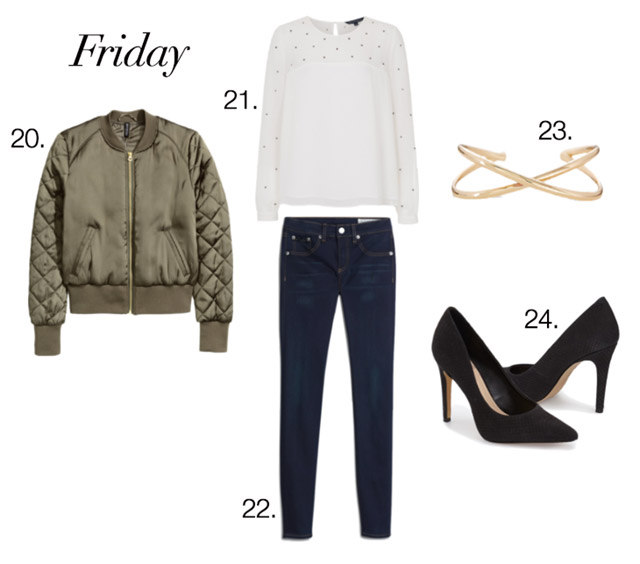 It's finally the day that you've been looking forward to since the week began: Friday. If your office partakes in the corporate tradition of casual Friday, then a bomber jacket might be the perfect look for you. To avoid pushing the limits of business casual attire, dress up the jacket with a simple blouse, unique piece of jewellery and classic pair of black pumps.
1. Zara Printed Bomber Jacket, $69
2. Mango V-Neck Sweater, $29
3. Zara Pleated Midi Skirt, $69
4. Forever 21 Pebbled Faux Leather Tote, $39
5. Sam Edelman Lucy Mid-Heel Bootie, $144
6. Zara Sheer Detail Bomber Jacket, $49
7. PrettyLittleThing Delty Blush Knitted Rib Turtleneck Top, $37
8. Topshop Cigarette Trousers, £30 (approx. $56 CAD)
9. Forever 21 Rhinestone-Encrusted Bib Necklace, $8
10. Aldo Aceida-U High Heels, $75
11. Mango Metallic Embroidered Bomber Jacket, $109
12. Topshop Clean Seam Midi Dress, $60, available at Hudson's Bay
13. Shashi Double Ball Stud Earrings, $49, available at Shopbop
14. Nine West Nadya Almond Top Pump, $86, available at Nordstrom
15. Zara Leather Bomber Jacket, $179
16. Wilfred Nobel Blouse, $125, available at Aritzia
17. J. Crew A-Line Midi Skirt in Suede, $474
18. Selected Femme Mary Bracelet, $34, available at ASOS
19. Same Edelman Dea Pump, $160, available at Capezio
20. H&M Bomber Jacket, $50
21. French Connection Arctic Spell Blouse, $60
22. Rag & Bone/JEAN Skinny Coventry, $230, available at Aritzia
23. Express Crisscross Open Bangle Bracelet, $12
24. Vince Camuto Kain Pump, $141, available at Nordstrom
Style Inspiration image by I'm Koo, courtesy of The Cut
By Sasha Smith
Are you an employer? Post your fashion job here.
Are you a job seeker? Find fashion jobs here.
Don't forget to follow us on Instagram for the latest fashion jobs, career advice and fashion trends!