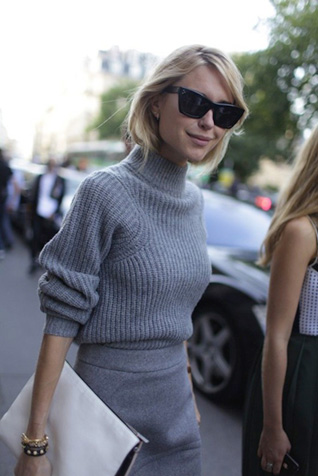 I've said it before, and I'll say it again: looking stylish in the winter is hard. When you have to schlep your way to the office in blistering cold temperatures, practicality tends to come first and fashion second (unless you're okay with being a human popsicle). Once February rolls around, winter has most likely given your style the old one-two punch and knocked it out of your work wardrobe completely.
Instead of letting the cold weather get the better of you this year, try sporting a 'groutfit'—the all-grey outfit that everyone from Kim Kardashian to Drake has been wearing this winter. Not only are these monochromatic and minimalist ensembles quite chic office looks, but they also keep you warm, since a good groutfit often requires layering and are incredibly easy to style. Here are a few Dos and Don'ts for achieving the perfect all-grey outfit: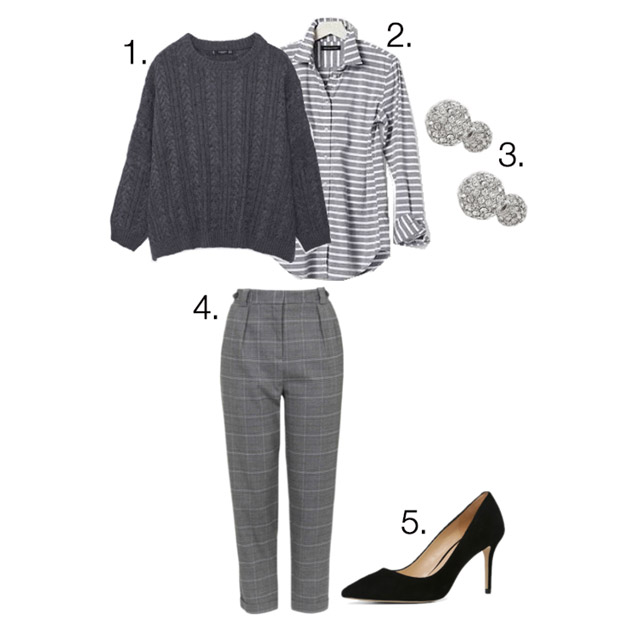 DO play with prints. In the absence of bright and bold colours it is important to create visual interest within the look or else you run the risk of appearing quite dreary. Mixing prints, such as horizontal stripes and plaid (contrary to popular belief these prints do go together), in grey tones is an easy way to attain a groutfit with much more depth and style.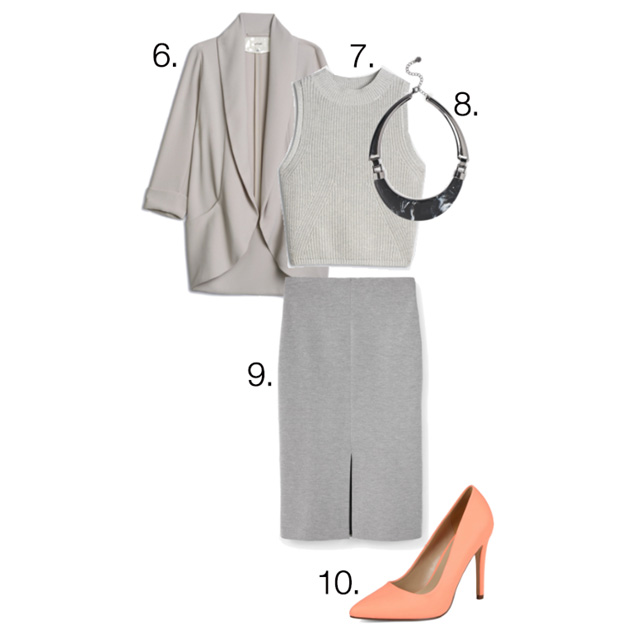 DO consider texture. The key to styling a groutfit is to wear pieces that differ in texture. For example, pair a knit cotton item with wool and a smooth fabric like silk. My go-to trick for creating an all-grey outfit with dimension is to add accessories that have a unique print or are made from fabric. This Pieces Torell necklace (pictured above) gives the illusion of texture due to the marble-effect; thus further elevating the sophistication of the groutfit.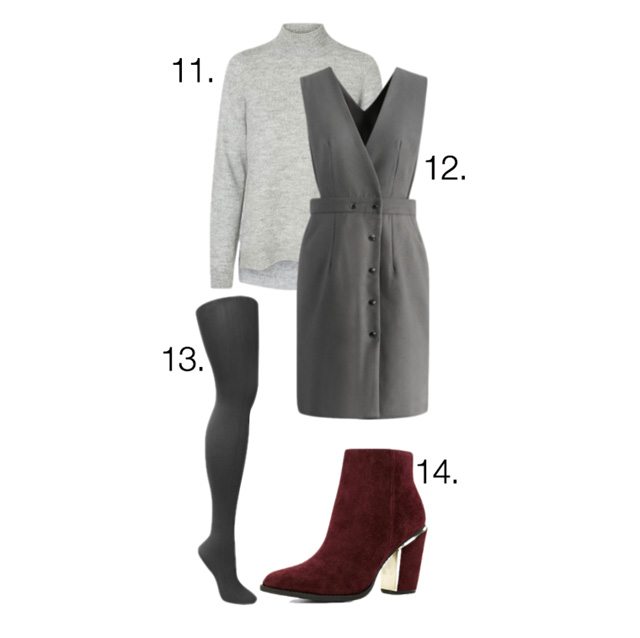 DON'T be afraid to play with shades of grey and bold colours. Yes, a groutfit is supposed to be all grey, but that doesn't mean that you can't wear multiple hues or add a pop of colour to the outfit. For a modern look, combine light cool greys with darker shades like pebble and fossil. Use accessories to incorporate luxe colours like bordeaux and emerald green into the outfit in order to enhance the contemporary feeling.
1. Mango Dolman Sleeve Sweater, $59
2. Banana Republic Dillon-Fit Striped Shirt, $47
3. Express Front and Back Fireball Post Earrings, $22
4. Topshop Check Peg Trousers, £40 (approx. $79)
5. Aldo Kediredda Black Suede shoe, $95
6. Wilfred Chevalier Jacket, $225, available at Aritzia
7. Babaton Nathan Knit Top, $75, available at Aritzia
8. Pieces Torell Marbled Necklace, $27, available at ASOS
9. Mango Cotton Pencil Skirt, $69
10. Call it Spring Coola shoe, $49
11. Boohoo Laura Turtleneck Long Sleeve Top, $32
12. Chicwish Elegant Demeanor Pinafore Dress, $78
13. Muk Lucks Dark Grey Stockings, $22, available at Shoebuy
14. Aldo Digosien shoe, $56
Style inspiration image by Kuba Dabrowski, courtesy of Women's Wear Daily
By Sasha Smith
Are you an employer? Post your fashion job here.
Are you a job seeker? Find fashion jobs here.
Don't forget to follow us on Instagram for the latest fashion jobs, career advice and fashion trends!