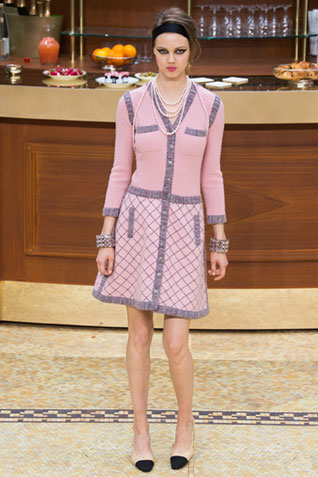 Maybe it's the subzero temperatures or the lack of adequate sunlight, but winter always seems to draw us to the 'dark side' when it comes to our sartorial colour choices. Black, charcoal, navy, oxblood and camel—colours that are winter wardrobe staples for many women (myself included). This season designers decided not to cast a dark shadow over the runway; instead it was illuminated with shades of pink like fuchsia, punch, and rose. Once I saw the powdery pastels in Prada's fall/winter 2015 collection, I immediately tossed aside my go-to black trousers and broke out the bubblegum pink.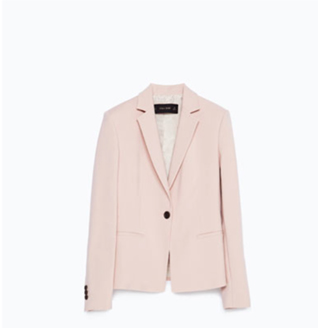 I truly adore colourful winter trends, because they push me to experiment with my work attire, which, to be honest, tends to be quite gloomy and boring during the colder months. To add some colour back into my life, I tend to wear simple and tailored pink pieces. A structured blazer is perfect, as it allows colour to be the focal point of the outfit. I would advise against wearing pink items with a lot of frills or glitter to work, because you might become known as the office's resident princess.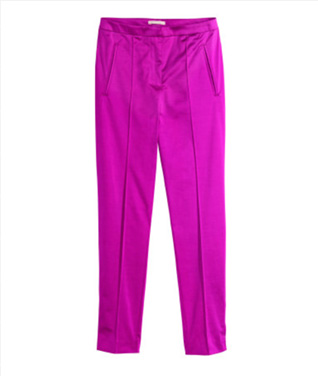 K.I.S.S (Keep It Simple, Sally) is a motto that I believe in when it comes to making choices in life as well as in fashion. With that said, I make sure that when I wear bold pinks the rest of my outfit is super neutral. For instance, I love these neon trousers from H&M, but they are quite the fashion risk. To make a piece this bright work for the office, I would incorporate it into an all-black outfit for a look that is both chic and modern. As long as you K.I.S.S, you can easily make the riskiest pink pieces work appropriate this winter.
For those days when I have an important meeting or presentation to give, my outfits are primarily comprised of two simple colours: black and grey. I usually end up hating those outfits, but I grin and bear it for the sake of looking 'professional.' Recently, I questioned why professionalism is synonymous with dark neutrals—*cough* antiquated, yet pervasive, stereotypes about women and femininity *cough*—and decided to do away with this notion implicitly guiding corporate office wear. Instead of being a complete rebel and wearing a monochromatic hot pink outfit to a meeting, I choose to sprinkle in some pink pieces. I think accessories in blush tones or a pastel pink coat are the perfect accent pieces for a good power outfit.
This winter I urge you to give your dark winter wear a break, and get pretty (and sophisticated) in pink at the office. I've gathered a few of my favourite styles below to help you get inspired.
1. Zara Double Fabric Blazer, $40
2. H&M Satin Suit Trousers, $70
3. Johnny Loves Roise Jaya Pear Ear Cuff Earrings, $45, available at ASOS
4. Babaton Cormac Coat, $199, available at Aritzia
5. J.Crew Collection Italian Wool Pull-on Pant in Beaded Tux Stripe, $130
6. Kate Spade Women's Rumsey Watch, $150, available at Hudson's Bay
7. Michael Kors Flex Mid Pump, $138, available at Browns
8. ASOS Jumper in Brushed Yarn with High Neck and Side Splits, $87
9. Topshop Wrap Midi Dress, £42 (approx. $86 CAD)
10. Orla Kiely Blushed Wool Mini Skirt, $265, available at Anthropologie
Style inspiration by Kim Weston Arnold, courtesy of Vogue
By Sasha Smith, Toronto
Are you an employer? Post your fashion job here.
Are you a job seeker? Find fashion jobs here.
Don't forget to follow us on Instagram for the latest fashion jobs, career advice and fashion trends!