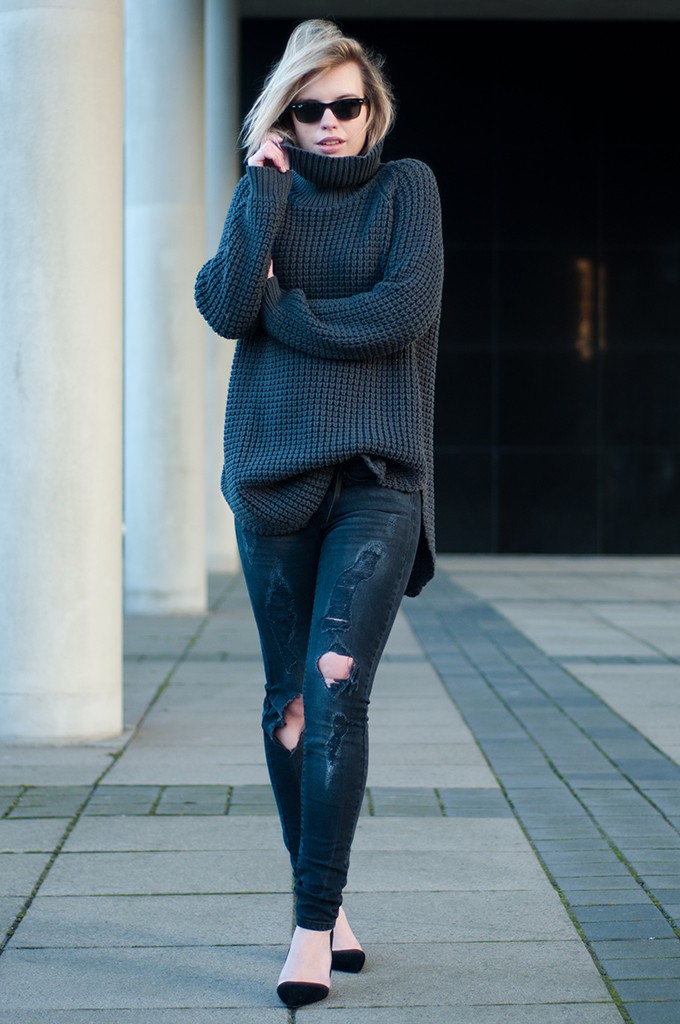 A few days ago, I was doing some post-holiday shopping with a friend (lets call her Stacy), and I came across the most exquisite oversized knit turtleneck. As I rummaged through the pile of sweaters searching for my perfect fit, Stacy began to recite why she hates turtlenecks: "they make you look like a dowdy middle school teacher, they're so clingy that they show all of my rolls, I get that 'uniboob' thing," and "turtlenecks are just so boring." After a few eye-rolls and headshakes, I realized that my friend's disdain for the turtleneck could be easily fixed by some inventive styling. Turtlenecks are one of the most versatile pieces of clothing because they come in a plethora of designs (i.e., oversized, fitted, sheer, asymmetrical etc.) that can be styled in an abundance of exciting ways. For all those women out there like my friend Stacy, I've rounded up five fresh (and flattering) ideas on how to wear a turtleneck that will make you reconsider your stance on this beloved winter staple.
Sans-Sleeves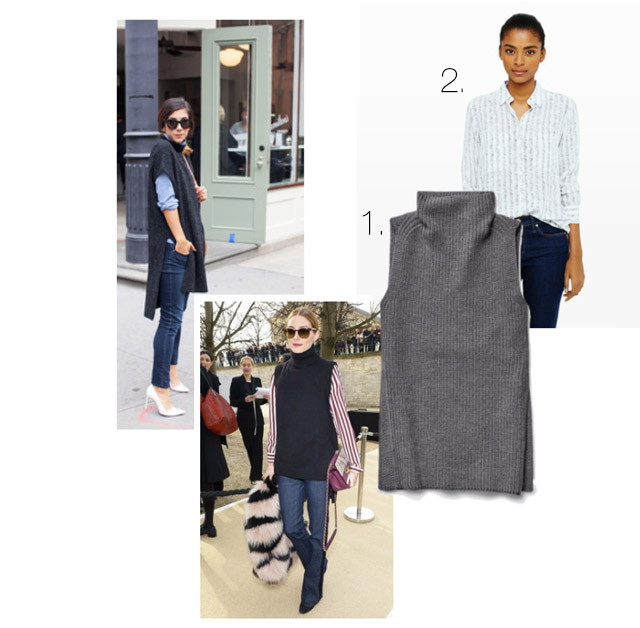 Hate the clinginess of turtlenecks? Lose the sleeves. This unique design offers more breathing room than the classic turtleneck due to it's slightly oversized shape, ample armholes, and exaggerated side slits. The loose fit of the sleeveless turtleneck also makes it the ideal layering piece. Pair this sweater with a printed button down shirt to create an effortlessly chic outfit.
Under a V-Neck
To be honest, understanding how to properly style a turtleneck underneath another item of clothing took some trial and error. I realized that whether it is a blouse, sweater, or dress, the trick to layering a turtleneck is to couple it with an item that has a deep v-neckline. This cut elongates the neck and gives you a slender silhouette, so you don't have to worry about looking and feeling stuffy under multiple items of clothing. P.S. To add interest to your outfit, don't forget to mix textures when layering.
Make a Statement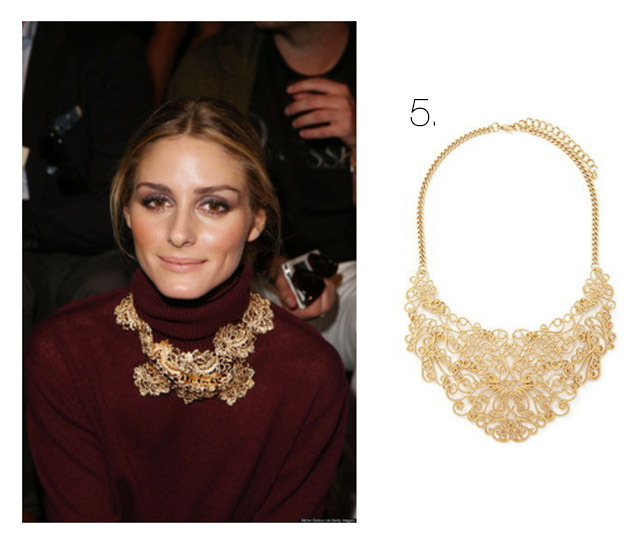 If you love accessories, wear a solid colour turtleneck to showoff your favourite statement necklace. Olivia Palermo (pictured above) shows us that with the right accessories you can give a plain sweater an elegant flair.
Get Cozy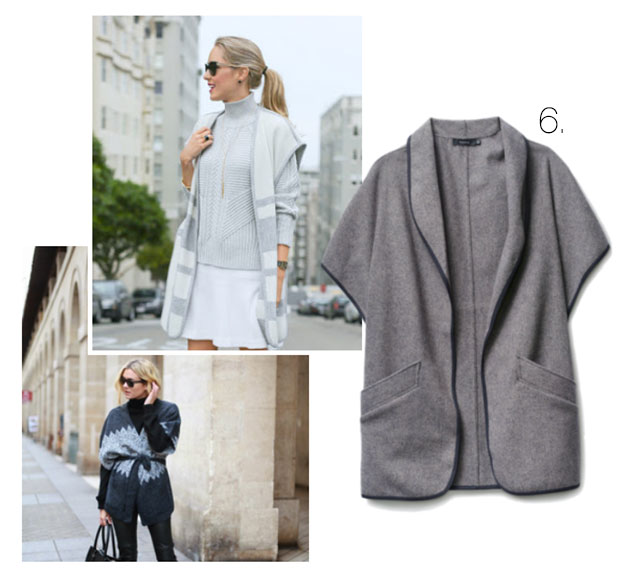 On those cold winter days, I love to layer a turtleneck under cozy knits. Loose fit cardigans, kimonos, capes, or ponchos are great layering pieces because you can pair chunky or thin turtlenecks underneath. This is also a really flattering look because items like ponchos or capes allow you to conceal any 'problem' areas that a turtleneck may accentuate. On the other hand, showoff your curves, or create the illusion of curves, by layering a simple turtleneck underneath a belted cardigan to give your waist more definition.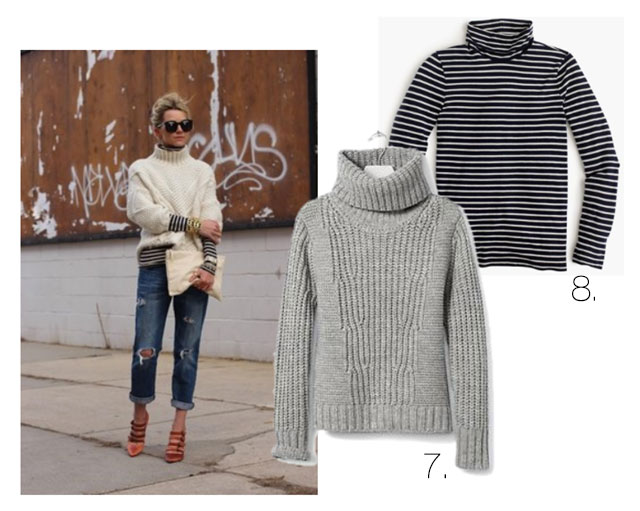 For those really cold days a cardigan is just not enough; instead I double up on turtlenecks. Wearing two sweaters may seem unusual, but fashion is all about the unexpected and strange. The key to successfully executing this look is to mix a print with a solid, and to wear a thin turtleneck underneath an oversized one.
The Modern Turtleneck Dickie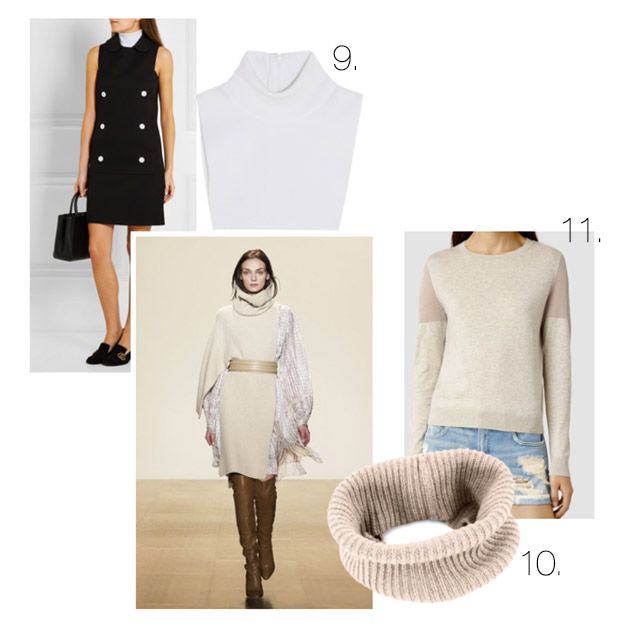 When I think of the turtleneck dickie the first image that pops into my mind is Howard Wolowitz from The Big Bang Theory. It seems that this season designers were trying to change the notion that turtleneck dickie = nerdy, as this odd combination of sweater and scarf was seen in the fall/winter collections of Emilio Pucci, BCBG Max Azria and Tome. If you like to be adventurous with fashion, try to elevate a simple crewneck sweater by pairing a modern turtleneck dickie, like this one from BCBG (bottom right), overtop.
1. Wilfred Durandal Sweater, $110, available at Aritzia
2. Club Monaco Maraie Silk Print Shirt, $169
3. Zara Faux Suede Top, $20
4. Express Sleeveless Ribbed Turtleneck Sweater, $39
5. Forever21 Filigree Cutout Statement Necklace, $10
6. Talula Laverton Poncho, $120, available at Aritzia
7. Banana Republic Mixed-Stitch Turtleneck Sweater, $55
8. J.Crew Striped Tissue Turtleneck T-Shirt, $59
9. Michael Kors Knitted Turtleneck Collar, $471, available at Net-A-Porter
10. BCBG Milenna Wool Knit Neck Warmer, $59
11. All Saints Lowe Sweater, $99
Style inspiration image courtesy of Red Reiding Hood
By: Sasha Smith
(Street style images by Lydia Hudgens for This Time Tomorrow; by Dominique Charriau, courtesy of Who What Wear; Always Judging, by Who What Where; by Zacharie Scheurer, courtesy of HuffPost Style; by Tiffany Hagler-Geard, courtesy of StyleCaster; by Memorandum; by Camille, courtesy of Adenorah; by Atlantic // Pacific)
Are you an employer? Post your fashion job here.
Are you a job seeker? Find fashion jobs here.
Don't forget to follow us on Instagram for the latest fashion jobs, career advice and fashion trends!