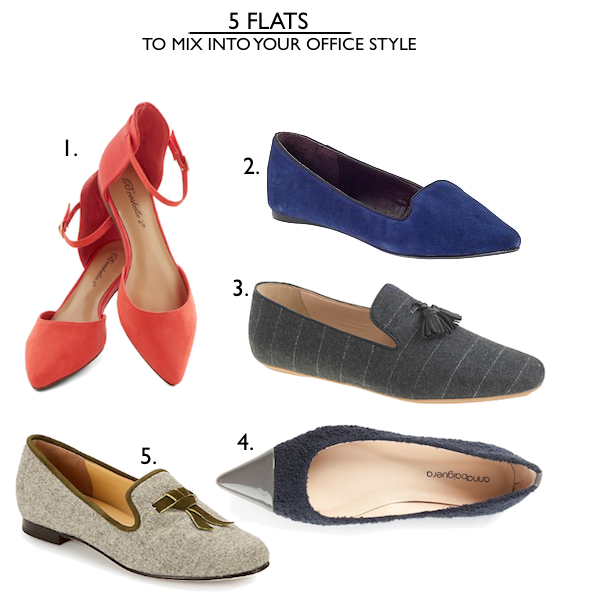 Nowadays there seems to be endless options of office appropriate flats (from simple pretty ballet to the menswear inspired smoking slipper!) to keep our feet & toes comfortable throughout our busy 9-5 days. Though we all love our heels, for a busy day at the office the last thing you want to worry about is foot cramps, heel pain or blisters. Flats are now a great option that not only keep comfort on the radar, they also now sport a variety of colours, prints & patterns which make them a great piece to jazz up & personalize your office look.
1. OPPO Original Corp. Peached as Punch Flat • $29.99, available at ModCloth
2. Georgie fabric tassel loafers • J.Crew • $198.00, available at JCrew
3. Sabrina Tassel Loafers/Grey • Cole Haan • $149.99, available at Off Fifth
4. Anna Baiguera 'Anneluxe' ballerinas • Anna Baiguera • $144.08, available at Far Fetch
5. Report Reid Flat • Report • $59.00, available at Piperlime
By: Bree Aylwin, writer of The Urban Umbrella | @urbanumbrella29
Are you an employer? Post your fashion job here.
Are you a job seeker? Find fashion jobs here.
Don't forget to follow us on Instagram for the latest fashion jobs, career advice and fashion trends!