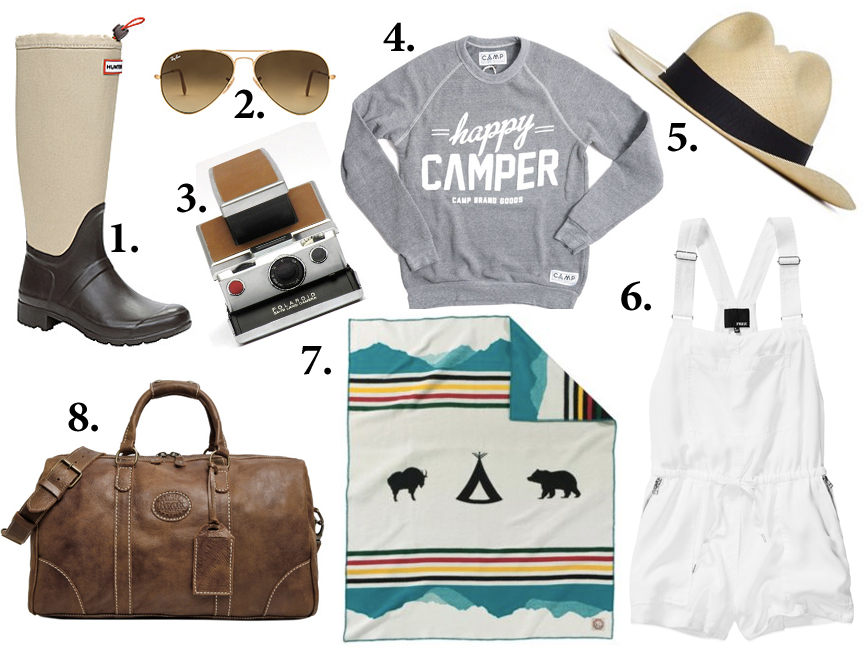 It's finally starting to feel like summer, which means that it's almost that time of year again- the time of the year where your boyfriend drags you out to a weekend in the wild forest. That's right, I'm talking about camping season. Now for some people, a weekend in a forest is a blessing- it's a serene bliss of disconnection from the real world. But if you are anything like me, it's a close second to hell. When he tries to tell me it's fun, all that flashes in my head is mosquitoes, flannel shirts, dirty hair, and peeing outside. But I have a secret; ladies- it doesn't have to be all scum. Because here is your go-to "glamping" list. Glam Camping is most definitely where it's at for the fashion loving, social media obsessed, city girl. Here's my top ten items that you need to be packing in your bag for a weekend of bliss, bug-free, summer adventure.
1. Original Tour Canvas Hunters in Brown (Giuntoli), $165, Littleburgundyshoes.com
Because everyone needs at least one (or if your in Vancouver, 10) good pair of rainboots. If your camping, rainboots are the easiest things to slip on and off out of your tent without struggling to balance yourself when doing them up.
2. Ray-Ban Gradient Aviators, $173, Revolveclothing.com
A classic pair of Ray-Ban Aviators will show your friends that even though you may dress well, you can dress down a bit too (just don't tell them the price!
3. Impossible Vintage Polaroid SX-70 Starter Camera, $360, Urbanoutfitters.com
Some of the best (and worst) memories are made when your out of your element, a vintage polaroid camera will make sure you have those memories even if you drop your iPhone into a river.
4. Happy Camper Slouchy Pullover in Eco Grey, $59.99, Campbrandgoods.com
A good sweater with a catchy logo that will fit right in at the campfire. A pullover sweater is one of the best things you can bring camping, its an easy and convenient piece without being overdressed.
5. Babaton Antony Hat, $65, Aritzia.com
This hat has a classic shape with an update, so you can show off your style even in the wild. Because of its neutral tones, you can wear it with anything. Plus, a hat is especially good after a couple days in the wild without a hair straightener…
6. Wilfred Free Beatriz Romper in White, $125, Aritzia.com
A romper is one of those pieces that is incredibly easy to wear, and easy to move around with. You get the on-trend style of a dress, without sacrificing functionality by wearing a boring pair of cut-off denim shorts.
7. Glacier Park 100th Anniversary Blanket, $239, Pendleton-usa.com
Why should you have to bring a sleeping bag camping? Load your tent with a bunch of comfortable, patterned blankets to make it your own!
8. Small Banff Bag in Tribe, $348, Roots.com
The perfect carry-all, Roots' Tribe leather only gets better and better with age. Plus, it's pre-treated so you won't get any stains. It's guaranteed to last you a lifetime (no seriously- they have a really good guarantee program on their bags. Check it out online!).
By: Jordan Dyck
Are you an employer? Post your fashion job here.
Are you a job seeker? Find fashion jobs here.