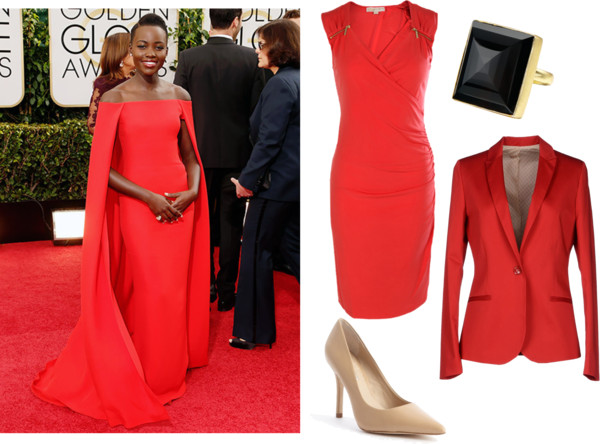 Since her breakout role in last year's Twelve Years A Slave, Lupita Nyong'o has stolen the hearts of audiences the world over. The Mexican-born, Nigerian-raised actress is more than a welcome dose of diversity in Hollywood: she's also a very real-life, relatable girl who takes selfies at award shows! No wonder everyone is girl-crushing on her.
As the face for Miu Miu's spring campaign, it's clear Nyong'o is as stylish as she is loveable. And even if your best bet to the Oscars is your winning charades routine, you can still be her chic copycat!
Try daringly low necklines:
Nyong'o shows off her toned physique and anti-cleavage with necklines that graze the bottom of her ribcage. If your breasts are on the smaller side, why not try a similar look for a night out? It perfectly walks the line between sweet and risqué.
Don't be afraid of colour:
Nyong'o has been shot in shades of blue, turquoise and tomato red. It takes a certain amount of courage to wear strong colours, particularly head-to-toe. But Lupita pulls it off! How? Clean shapes and tailoring. That tomato red Ralph Lauren gown she wore? It works because it fits perfectly and is a simple shape. If you make shape and fit quiet, colour can do all the talking. Now that's a style statement! Just choose neutral accessories to make sure the impact of your colour isn't lost. Nude shoes, for instance, are a perfect paring to a vibrant dress.
Streamline your accessories:
One thing striking about Lupita's look is her lack of bling. In an age where celebs rent diamonds the way we rent cars, her lack of "frosting" is a statement in itself. But more than that, it adds a shot of minimalism to the decadence of red-carpet dressing. Next time you feel tempted to pile on all your trinkets, try choosing one simple piece instead. It copies the streamlined look Lupita loves.
A day wear take on Nyong'o's red carpet look:
1. Michael Kors Dress, $305, available at psyche.co.uk
2. Brian Dales Blazer, $270, available at yoox.com
3. Jigsaw Ring, $91
4. Charles David shoes, $130, available at bluefly.com
By: Morgan Mullin
Are you an employer? Post your fashion job here.
Are you a job seeker? Find fashion jobs here.