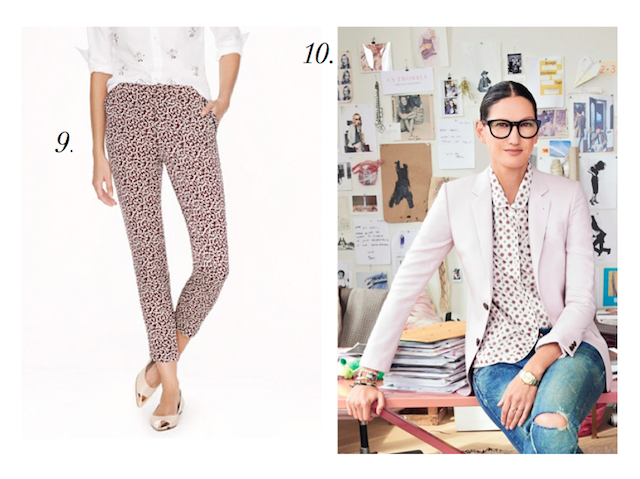 As we prepare for 2014, one of my favourite things to re-evaluate is my wardrobe from the previous year. This year, I thought I'd round up my top 10 New Year Style resolutions I hope to stick to in 2014.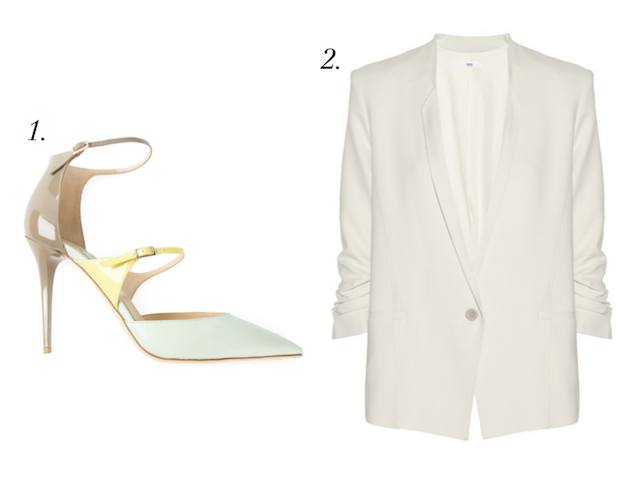 1. The first New Years style resolution on the list is to buy things in the correct size – whether it's a pair of shoes or a dress, if they don't fit, you won't wear them! Don't be swayed by sale prices or "last size" signs and wait for something else to come along in the perfect style and fit. Jimmy Choo 'Typhoon Pump', $866.93, available at Farfetch
2. Steer clear of trendy sale items and focus on long lasting pieces. Re-adjust your clothes shopping budget this year to spend 70% on well-made classics, and 30% on trendy pieces to add individuality that you can switch up easily for different looks. Helmut Lang Ruched-Sleeve Slub-Woven Blazer, $518, available at NET-A-PORTER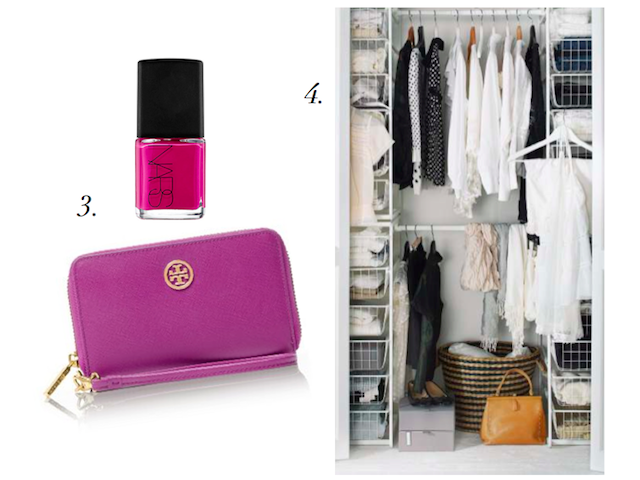 3. Experiment with colour in your wardrobe, but know which colours work for you. Pantone's colour of 2014 is 'radiant orchid', but if you prefer the way that 2013's emerald looks with your hair colour, keep wearing your emerald pieces but try injecting this year's colour in smaller doses like in an accessory or manicure. NARS Guy Bourdin Holiday Collection Limited Edition Nail Polish in 'No Limits', $21.00, available at Sephora. Tory Burch Robinson Smartphone Wristlet in 'Royal Fuchsia', $155.00.
4. Clean out and organize your closet – if you have not worn a piece in one year, toss or donate it! Pieces that are still in wearable condition can be traded with a friend, or donated to a good cause. While you do this, pay close attention to why you didn't wear those pieces so you don't make the same mistakes in 2014! Ikea ALGOT Storage System, from $23 – $304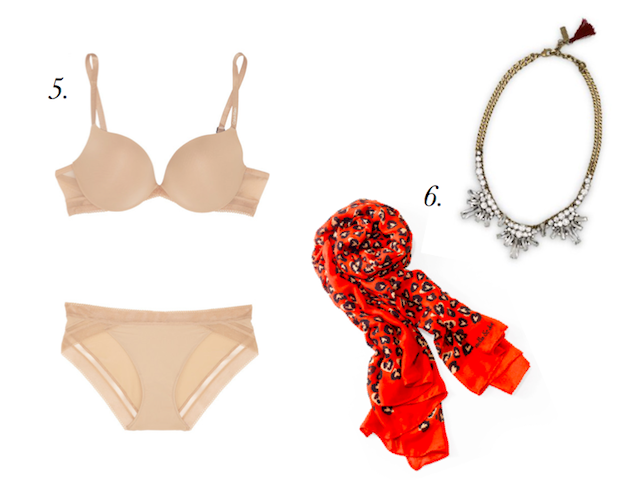 5. Invest in good undergarments – the benefits for this one are pretty self explanatory, but bras are one of the most annoying things to shop for! Bite the bullet and shop in a comfortable shirt that's easy to change in and out, but that is fitted enough to show shape when testing out different silhouettes. If you're a Victoria's Secret devotee, try a department store for a change and experiment with different brands. Calvin Klein Icon Convertible Perfect Push Up Bra, $44 USD, and matching Icon Stretch Cotton Briefs, $20 USD, available at NET-A-PORTER.
6. Upgrade your accessories game – bags, shoes, and jewelry. It's amazing how the addition of accessories can elevate even the simplest outfit. A comfortable knit shirt and jeans can become a great party outfit in a snap with the addition of a glam statement necklace, or how a bright scarf can liven up a neutral coat. Club Monaco Radà Statement Necklace, $279.00
Stella & Dot Luxembourg Scarf in 'Wild Hearts', $64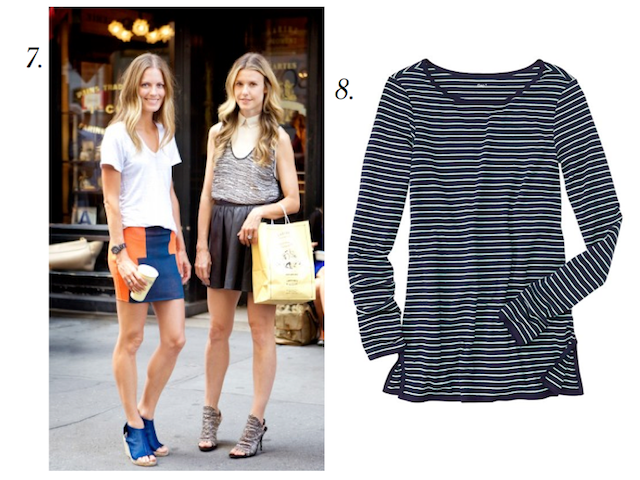 7. Find your perfect shopping partner – If you're the type of person who enjoys bringing some company along for reinforcement in the dressing room, call on your most honest friend who provides helpful commentary while you're trying on new styles. Style Inspiration: Feyt Editors – Ferebee Taube and Eleanor Ylvisaker, image courtesy of Refinery 29
8. Break out of your pattern rut – do you always gravitate toward stripes? Florals? I get made fun of all of the time (lovingly) by friends and family for wearing leopard print flats while holding my matching iPhone case. Make it a resolution this year to try new patterns. Who knows, maybe polka dots will be your new 2014 signature? Gap Supersoft Stripe Tunic in Navy Stripe, $29.95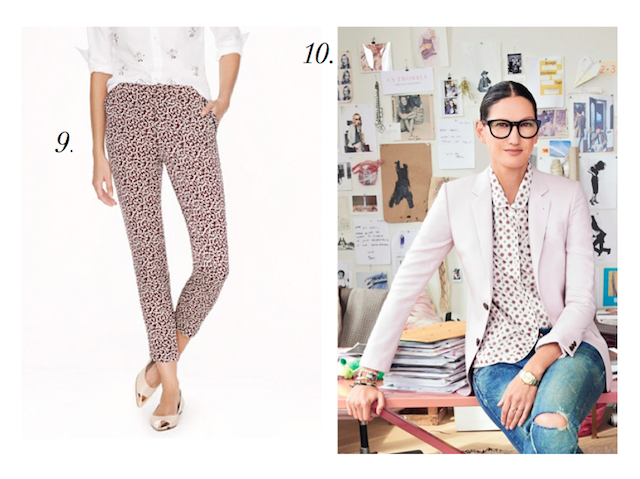 9. Try a trend you've always wanted to wear, but were too timid to try last year. There's no time like the present, and maybe you'll find a newfound confidence when you wear it! My resolution is to try wearing boldly printed bottoms, like this Piamita™ pair from J.Crew, $285 USD
10. Last but not least…dress for yourself! If it feels right, wear it. I read a quote recently that says; "Life is too short to wear boring clothes" and I couldn't agree more. If you love something, then that's a good enough reason to wear it! Style Inspiration: Jenna Lyons – The Fashion Original by Amy Wicks, image courtesy of Glamour
By: Liz Doré, Toronto
Are you an employer? Post your fashion job here.
Are you a job seeker? Find fashion jobs here.