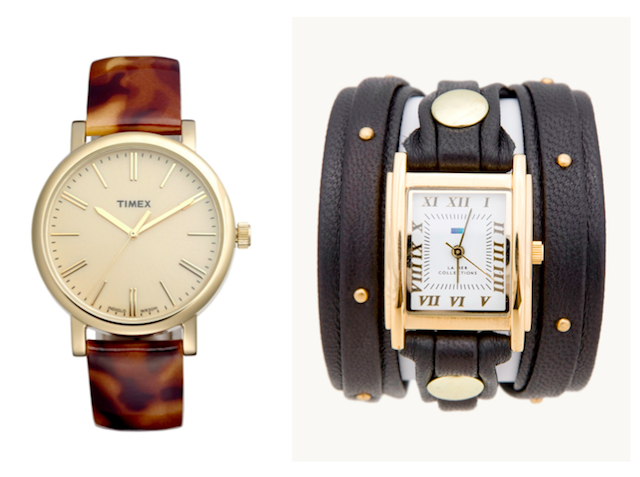 I'm sure everyone on your Christmas list this year (yourself included) would love more time as a gift…the next best option? You can give them a beautiful new watch to keep the time they do have. Here are three trends that are still going strong into the New Year, for ladies and gentlemen alike.
Fashion Meets Function: These comfortable to wear, soft leather strapped watches are both trendy and versatile. Gold and champagne faces are still very much on trend and will look great layered with her favourite bracelets.
1. Timex Modern Originals Grande Classics, genuine patent leather strap in tortoise pattern, $80
2. La Mer Collections Black Gold Studs Wrap Watch, $98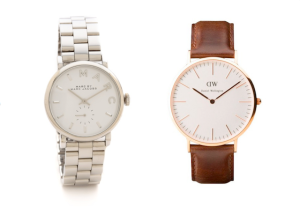 Minimalist Chic: For those who err on the side of simplicity, these two styles have a more unisex appeal, while still keeping some femme features like this Marc by Marc Jacobs model that looks more like a beautiful piece of jewelry than a timepiece, and Daniel Wellington's pretty rose gold accents.
3. Marc By Marc Jacobs Baker Watch, $194.04, available at SHOPBOP
4. Daniel Wellington Classic Bristol Man watch in Rose Gold, $229, available at Urban Trait
Military Time: The military inspired look is on trend again this year, especially for watches! This camo-green coloured style by Nixon is tough enough for all sorts of adventures, but is still cool and casual for everyday. For serious collectors, J. Crew has a very special partnership this year with Mougin & Piquard who, until now, stopped making their Swiss watches in the 1920's!
5. Nixon – The Corporal SS in Matte Black/Industrial Green, $225
6. Mougin & Piquard for J. Crew Chronograph Watch, $800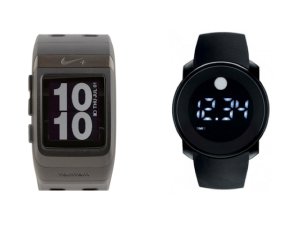 Back to the Future: These picks are a big step up from the nerdy Indiglo® watch with Velcro straps he loved growing up, but it's hard to deny the convenience of looking down at your wrist and seeing the time in big clear numbers. For that reason, more brands are coming out with digital watches with more functions like Nike's Sport watch, which includes GPS and fitness monitoring features. Or this simplistic style by Movado that is sleek enough to wear with a suit.
7. Nike + Sport watch GPS, $188.80, available at Nordstrom
8. Movado Bold Digital Watch, $495, available at Watch It!
By Liz Doré, Toronto
Are you an employer? Post your fashion job here.
Are you a job seeker? Find fashion jobs here.