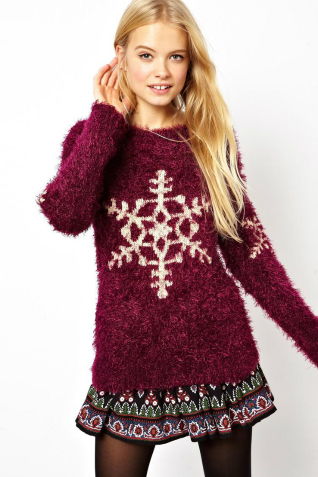 'Tis the season of oversized, baggy holiday sweaters,; also known as the only time of year when wearing the most outrageous and ugly sweaters is acceptable.  This tradition of wearing the most unattractive and over the top knits has become a staple for the Christmas season because it's fun, festive and comfortable, which is what the holiday is all about!  But for those fashionistas out there that won't be caught dead strolling around in one of those sweaters, there are ways to still be fashionable and in the Christmas spirit!  The easiest way is to just be subtle with your sweaters.  Steer clear of those typical bright colours of red and green and go for softer, muted tones that still have the festive patterns we all know and love.  If you want to dress up a bit, pair the knit with a nice skirt and leggings and most importantly, accessorize, accessorize, accessorize!  Just remember, the holidays are all about having fun and being with your loved ones, whether you're in style or not!
1. Knitted Sequin Present Jumper, $84, available at TopShop
2. Ecote Stardust Open-Stitch Sweater, $69, available at Urban Outfitters
3. Fuzzy Fair Isle Sweater, $27, available at Forever21
4. ZigZag Sweater, $27, available at Forever21
5. ASOS Premium Sweater with Studding, $84
6. ASOS Fluffy Holiday Sweater with Snowflake, $65
By: Oleena Mak, Toronto
Are you an employer? Post your fashion job here.
Are you a job seeker? Find fashion jobs here.