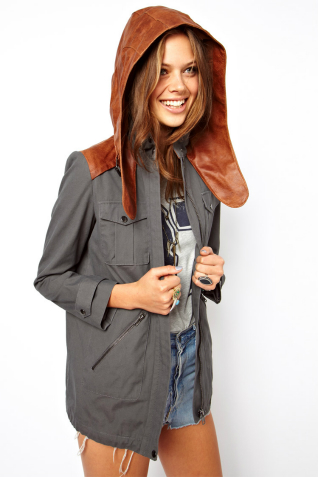 If you live anywhere near Toronto, chances are you've experienced the insane rainstorms this hot and humid summer.  One moment the weather would be perfectly fine, the next there is a sudden downpour of rain leaving you soaking wet.  I remember the excitement of heading to my first concert of the summer, all dressed up and ready to go; that is until I looked outside.  Needless to say, I was not prepared for the weather at all and I was left feeling uncomfortable the whole night.  There's nothing you can do to prevent the crazy weather from happening, all you can do is be prepared.  So here are a few basic essentials for those rainy days.
If you're anything like me, you hate wearing long pants or jeans.  I always opt for skirts or dresses when it's raining to avoid the clinging feeling of soaked clothing.  Besides, if you add summer heat on top of the rain, I doubt you would want to be wearing jeans in this weather.  Over my outfit, I always like to wear a lightweight parka, or something more water resistant to cover up.  An umbrella doesn't always quite do the trick, especially when it's pouring, so having a jacket helps keep you extra dry.
Lastly are shoes, the number one enemy of rainy days.  Nobody ever likes the feeling of having squishy feet and soaking wet socks, which is why rain boots is the best way to go.  On days when rain is slightly lighter, wearing patent leather flats or rubber jelly shoes are good alternatives to help keep your feet a little drier and more comfortable.
Next time, don't let the rain bring you down!  Always remember to check the weather beforehand and be aware of any severe thunderstorm warnings so you can gear up and be prepared for a long, wet day!
By: Oleena Mak, Toronto
1.  Oasis Light Weight Parka, $123, available at ASOS
2.  ASOS Premium Parka with Leather Hood, $196
3.  Pins and Needs Deep-V Tie-Neck Romper, $69, available at Urban Outfitters
4.  Vila Floral Print Sleeveless Dress, $44, available at ASOS
5.  MARC by MARC JACOBS Skinny Stripey Lips Umbrella, $63, available at Nordstrom
6.  Donia Rain Boots, $24, available at ALDO
Are you an employer? Post your job here.
Are you a job seeker? Find fashion jobs here.