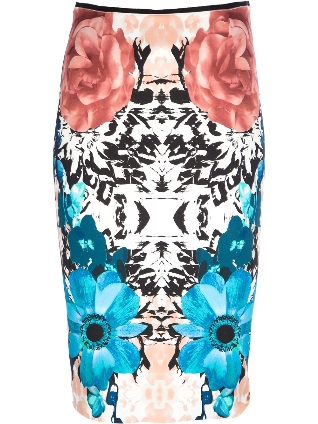 While you may be tempted to purchase an entirely new wardrobe for summer, there is no need to max out your credit cards just yet. In reality, there are only a few basic essentials you need to give your workwear wardrobe an updated, summery feel, while still looking office-appropriate.
Wearing a dress in a colourful print is a chic and ladylike way to add a summery vibe to your everyday work look. It's important to remember that a work dress should be made of a slightly thicker fabric than your typical sundress, and stop close to the knee. Sleeveless is okay, but spaghetti straps should be saved for the beach.
A pencil skirt or cropped trousers in a pretty floral pattern are also great staples for your warm-weather wardrobe. Try wearing them with muted colors (such as black and white) for office-appropriate style.
Remember that while temperatures may be sweltering outside this time of year, offices usually have their air conditioning on at full blast. By having a lightweight cardigan or blazer around, you can easily layer it over your outfit for both warmth and added style.
Finally, invest in a pair of office-appropriate sandals to keep your feet cool all day long. Ankle-strapped heels or peep-toe pumps are a more professional alternative to flip-flops for the summer months.
1. Closet Sleeveless Skater Dress, $80.73, available at ASOS
2. Closet Tie Back Dress with Pockets in Jewel Print, $80.73, available at ASOS
3. PINKO Floral Pencil Skirt, $228.19, available at Farfetch
4. Eliza J. Ruched Sleeve Blazer, $85.12, available at Nordstrom
5. Anne Taylor Crew Neck Short Sleeve Cardigan, $73.17
6. ASOS Pants in Floral Print, $56.51
7. Kate Spade New York Carrin Pump, $ 357.94, available at Nordstrom
8. Rachel Zoe Brooklyn Black Leather Sandal, $184.38, available at Forzieri
By: Faryn Wegler, Toronto