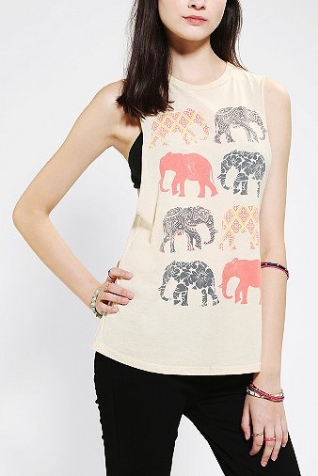 If the thought of exposing your stomach this season (à la the crop top) makes you shudder, why not show off your biceps instead? As the shirt of choice for gym-goers in the eighties, the comfy muscle tee has re-emerged as one of Summer 2013's hottest trends. Not to be confused with the "wife beater," the muscle tee is loose, baggy and perfectly exudes a rocker-chic cool vibe. Featuring ventilation-friendly dropped armholes, it is the perfect t-shirt style to wear during the months when temperatures are sweltering.
With graphic prints being another popular style for the season, you can easily sport two trends at once with a graphic-print muscle tee. From edgy skulls to adorable cartoon characters, the possibilities are endless. However, before you decide to jump on the muscle-tee bandwagon there are a few things to keep in mind. To avoid looking sloppy make sure to pair your muscle tee with a more structured bottom, such as high-waisted shorts or a body-hugging pencil skirt. If you want to further dress up your outfit, try adding bold accessories such as a statement necklace or stacked bracelets.
1.) Nasty Gal Paradise City Muscle Tee, $67.98
2.) Nasty Gal Painted Skull Muscle Tee, $67.98
3.) Nasty Gal Lipstick Muscle Tee, $29.29
4.) Corner Shop Elephant Muscle Tee, $29, available at Urban Outfitters
5.) Evil Twin Virtual Insanity Muscle Tunic, $70, available at Urban Outfitters
6.) Tobi Faded Love Tank Top, $36
7.) Chaser The Empire State Muscle Tee in White, $47.45, available at Karmaloop
8.) Forever 21 Cutout Minnie Mouse Muscle Tee, $16.80
By: Faryn Wegler, Toronto
Are you an employer? Post your job here.
Are you a job seeker? Find fashion jobs here.