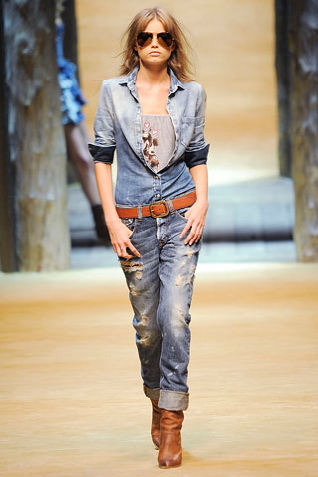 Wearing denim on denim has always been a controversial and tricky trend in fashion. It can either work really well to create a casual daytime outfit, or turn out really bad, as in Justin Timberlake and Britney Spears bad back in 2001. While this fashion catastrophe stirred up quite the debate, the trend of layering denim has definitely redeemed itself and made its comeback, that is when it's done right.
The key to wearing double denim is to never over do it. One of the easiest ways is to pair different shades of denim together, such as wearing a light denim shirt with dark blue denim pants. There are also several different options of denim out there, like acid washes, double tone colours and ombre that can easily be worn together with another denim piece. With that being said, if you do pair same shades of denim together, remember to always keep it clean, simple and basic with no more than two pieces. Denim is always a fun piece to wear and you can even have more fun when you double it, just make sure you do it right!
1. Style Inspiration: Chanel Spring 2008 Runway, image courtesy of Style.com
2. Style Inspiration: Dolce and Gabbana Spring 2010 Runway, image courtesy of Style.com
3. Style Inspiration: Rihanna Street Style, image courtesy of Glamour
4. Style Inspiration: Milan Paris Fashion Week 2013, image courtesy of StyleSight
5. Zara Combination Denim Shirt, $39
6. Zara Two-Tone Denim Shirt, $39
By: Oleena Mak, Toronto
Are you an employer? Post your job here.
Are you a job seeker? Find fashion jobs here.