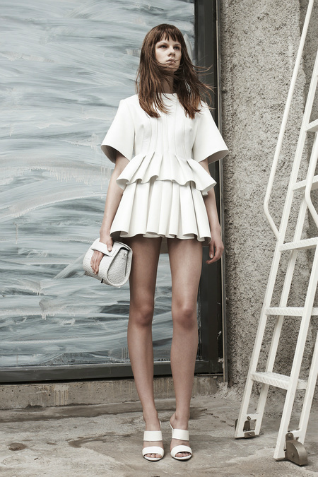 As the Resort season wraps, I'm inspired by glamorous designs and decadent accommodations imagined for 2014. Amongst a bevvy of trends hosted across the globe – everywhere from Singapore (Chanel), to Monaco (Dior) – I've curated a list of the looks that will surely last into Fall.
White on White
Seen at Giambattista Valli, Chanel, Alexander Wang, Givenchy, Chloé
White showed up in nearly every designer's palette this season, as stark head-to-toe tonal looks. Riccardo Tisci took to white when he veered from patterns at Givenchy, and Alexander Wang chose a stark peplum skirt suit to swoon his minimalist fans and offset his unexpected bubble gum pink pieces. Nearly every designer showed all white ensembles, which, though typical for resort wear, still generated a fresh and sleek mood to the season.
She Wears the Pants
Seen at Chloé, Giambattista Valli, Marc Jacobs, Givenchy, Calvin Klein, Gucci, Louis Vuitton
Trousers pervaded the looks of many important collections this Resort season in a noticeably different adage than usual. Valli and Givenchy both showcased skirts or dresses over trousers (a trend that will definitely influence upcoming designs), while Chloé, Calvin Klein and Gucci offered a luxe and relaxed Seventies silhouette. This balance of feminine and masculine is modern and refined.
The New Nautical
Seen at Marc Jacobs, Chanel, 10 Crosby Derek Lam, The Row, Louis Vuitton
Though nautical and resort wear seem like an obvious match, designers strayed from their usual oeuvres this season, offering a glamorous twist on the traditional stripes. Chanel and Marc Jacobs used metallic and sequins to accentuate the yacht inspired aesthete, while Louis Vuitton reimagined the classic in a jacket and trouser combination of tweed and leather.
Deconstructed Lace
Seen at Christian Dior, Chanel, Givenchy, Burberry, Louis Vuitton
Saccharine and sweet is lace, but right now, designers are deconstructing the French fabric for a contemporary vibe far off from the likes of Marie Antoinette. Full laser cut fabrics elevate traditional staples like trench coats at Dior and Louis Vuitton, or pencil skirts and trousers at Burberry and Givenchy.
1. White at Givenchy, Resort 2014
2. White at Alexander Wang, Resort 2014
3. Trousers at Chloé, Resort 2014
4. Trousers at Giambattista Valli, Resort 2014
5. Nautical Marc Jacobs, Resort 2014
6. Nautical at Chanel, Resort 2014
7. Lace at Burberry, Resort 2014
8. Lace at Dior, Resort 2014
All images courtesy of style.com
By: Ali, Vancouver
You should follow me on Twitter @alileier
Are you an employer? Post your job here.
Are you a job seeker? Find fashion jobs here.