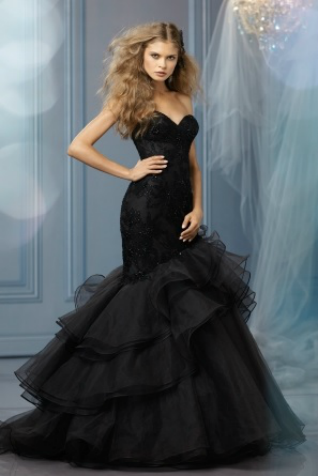 Who says that you have to wear white on your wedding day? Having been a recent bride myself, I, too, played the safe game and still thought to be avant-garde by playing with the off white look – how risqué! Mind you, I also decided to add more of an edge by having cream silver lining under my cream French lace custom gown.
All brides are different but I must say that more and more women are trying to break with tradition and take the wedding gown look in a whole new direction. Why must we stick with the old fashioned ways? In the past year, many designers, such as Vera Wang, who have been known for embracing the classics have also turned heads bygoing for bold reds, burgundies and even, yes, BLACK!
Young celebrity brides have welcomed these newfound wedding colours with open arms and have walked down the aisle still looking classy and whimsical. Even with these sensational new hues, there is still such a romantic presence and stronger than ever.
So if you are a bride-to-be, think really hard about what you want to do. Be different!
1. Style Inspiration: Vera Wang "Katharine". Image Courtesy of Vera Wang
2. Style Inspiration: WTOO Wedding Dresses "Freida". Image courtesy of Best Bridal
By: Mijana Veljkovic, Toronto
You should follow me on Twitter @mijanaveljkovic
Are you an employer? Post your job here.
Are you a job seeker? Find fashion jobs here.