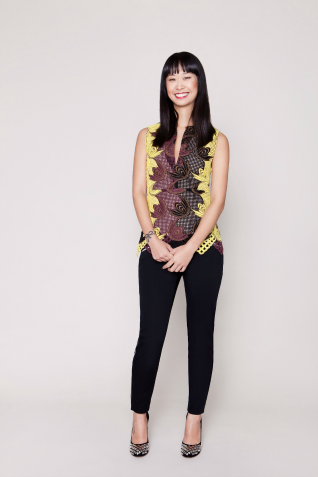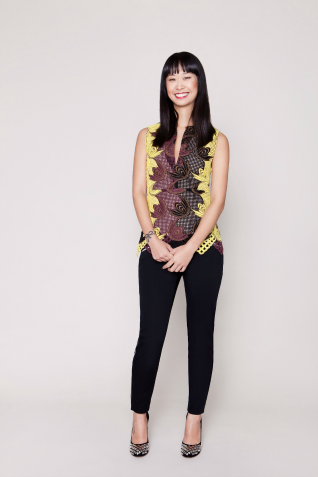 As an aspiring fashion journalist, I can empathize with the competitive nature of the industry, so I was instantly charmed by the opportunity to interview one of my own editorial icons, Rebecca Tay. I first met Rebecca when I interned for her four years ago under her tenure as West Coast Editor at FASHION Magazine. Since then, the Calgary native has generated a prolific freelance career, worked as Aritzia's Managing Editor and moved to London where she currently boasts the title of Marketing Editor at THE OUTNET. I caught up with the industry insider for a sneak peek into her fast-paced role at fashion's chicest luxury outlet.
Style Nine to Five: How did you get your first break into the fashion industry?
Rebecca Tay: I was an avid reader of FASHION and the now-defunct FASHION18, so I emailed Charise Garcia (who's now a publicist in Toronto) after reading a story she had written about giving up a career in medicine for fashion. She replied to me personally and introduced me to the then Western Editor at FASHION, Kate Maclennan. I met Kate, interned for six months, hassled her for freelance work for about nine months, and eventually got a job!
 SNTF: Describe a typical day at work.
RT: Every day is extremely busy! There are lots of brainstorm sessions, presentations and meetings with various teams in the office. I'm also lucky enough to have time out of the office for the odd day on a photo shoot or for meetings with external agencies and partners.
My team and I are responsible for all of the editorial copy that you see on THE OUTNET, including social media and advertising campaigns. Part of my role is to come up with creative headlines, oversee copy for the six emails we send each week, the text and voiceover for our How To Wear videos, and all of our marketing material.
SNTF: What have been some of your career highlights? Any noteworthy fashion shows or memorable moments?
RT: My first season at NYFW was pretty amazing – the tents were still at Bryant Park then, which felt so exclusive! I remember really soaking up the buzz. I also love off-site shows at LFW – it's such a great way to see different venues and gives the collections a sense of grandeur that feels suitably British.
As for my favorite shows, watching the Peter Pilotto or Mary Katrantzou shows live makes a huge difference as seeing the prints up close really brings them to life. I also remember falling in love with some colored fur coats by Thakoon many seasons ago. And, of course, the Burberry show is always a massive production with great music – their after-party with a live performance by The Kooks a few years ago was amazing. I had a five-minute conversation with Kate Lanphear and danced with Hilary Alexander!
SNTF: You've written for a lot of publications from FASHION and Flare, to The Vancouver Sun, to BC Business. What advice do you have for aspiring freelance writers?
RT: My biggest piece of advice would be to intern if you can. After you've done that, make sure you stay in touch with the editors you worked with and try and network as much as possible. A lot of editors will want to have met you before they assign you anything and it gives them a bit of context when you start pitching emails.
Most importantly, don't be discouraged by rejection – it's bound to happen, though hopefully not too much!
SNTF: After moving to London a couple of years ago, how would you say the fashion scene there is different to your Canadian counterparts?
RT: I find people here are more daring with their style and really use fashion to express themselves. I've found that industry insiders in Canada are more designer conscious, whereas in London (where there are a lot more high street options), it's more about mixing and matching high and low purchases to put together a great outfit.
SNTF: What trends/items are you currently coveting for spring/summer?
RT: I've been going back to basics a lot lately – I discovered I had so many statement pieces in my wardrobe but not as many classic, tailored pieces that are great for looking sharp every day. I love the Iris & Ink short suit! I bought a pair of black patent single sole pumps by Roger Vivier recently at a sample sale, but would love a pair in every color. Also on my wish list is a new Marni piece or two for a pop of color or playful print and some casual T by Alexander Wang basics for layering.
By: Ali Leier, Vancouver
You should follow me on Twitter @alileier.
Are you an employer? Post your job here.
Are you a job seeker? Find fashion jobs here.