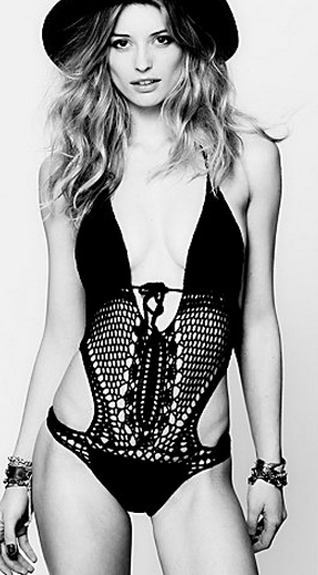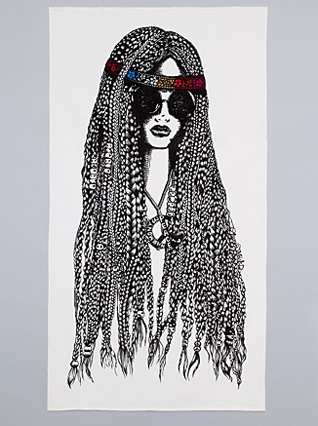 The increasingly lovely weather in the past few weeks across the country has signalled summer's imminent arrival. Summer typically fashion has a laid back feel; flowy maxi dresses, denim cut-offs, oversized tees. One important part of summer fashion that is sometimes overlooked is finding the right swimsuit and related accessories. Swimwear often reflects trends that we see on the runway, and in recent years, more brands and large retailers are offering their own versions of beach wear.
This year, the trends in swimwear are continuing the "bolder is better" motto from the last few years. Cut-outs were a big trend on the runway for Spring/Summer '13, working their way into oversized tees, and dresses. The itty bitty Eagle Shadow Bikini from Australian brand One Teaspoon is an example of this trend carrying over to swimwear.
Graphic prints and bold, colourful patterns are also quickly becoming a prominent trend in beach wear this season. Wildfox offers many different variations of this style, with one pieces featuring everything from graphic animal prints to the Union Jack.
For beach goers looking for something more feminine, check out the bohemian inspired crochet one pieces from Lisa Maree. These ornate, lacey bathing suits are not what you typically think of when you think swimwear, and are definite standout pieces.
A great cover-up and beach towel are as important as the swimsuit itself. For a real taste of California beach lifestyle, check out Jen's Pirate Booty. Her beautiful, ethereal garments can function both for a day at the beach and also as a dress for drinks afterwards. For an out of the ordinary beach towel, Lauren Moshi`s illustrated hippie-girl towel is a great option.
1. One Teaspoon Eagle Shadow Bikini, $129
2. Wildfox French Flowers Kitty Lovelock Ruffle One Piece, $188
3. Lisa Maree Crochet Monokini, available at Free People, $151
4. Jen's Pirate Booty Beach Bum Kaftan, $132
5. Lauren Moshi Beach Towel, available at Bloomingdales, $57
By: Zoe Alexandra Torell, Toronto
You should follow me on Twitter @blueauguste.
Are you an employer? Post your job here.
Are you a job seeker? Find fashion jobs here.