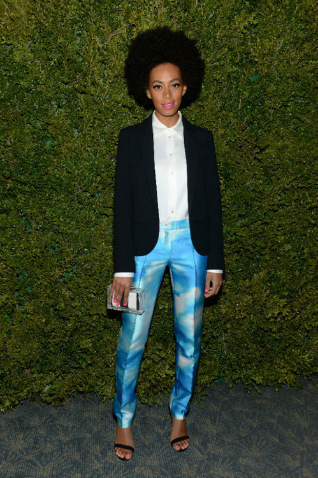 It is hard to say what makes a style icon great, but it is more than just their clothes, or their hair, or the shoes on their feet. It is a certain je ne sais quoi that elevates their everyday outfits and makes them stand out. Solange Knowles is the perfect example of a style icon that can take all the patterns and colour in the world and make it her own. Check out some of my favourite Solange looks and get inspired!
1. Solange at Coachella, Image Courtesy of Just Jared
2. Solange in New York, Image Courtesy of Huffington Post
3. Solange wears White, Image Courtesy of Teen Vogue
4. Solange in Complex Magazine, Image Courtesy of Complex
5. Solange in Blue, Image Courtesy of Styleite
6. Solange at the Grammys, Image Courtesy of Huffington Post
By: Gabi Pirraglia, Toronto
You should follow me on Twitter @gabi_pirraglia.
Are you an employer? Post your job here.
Are you a job seeker? Find fashion jobs here.