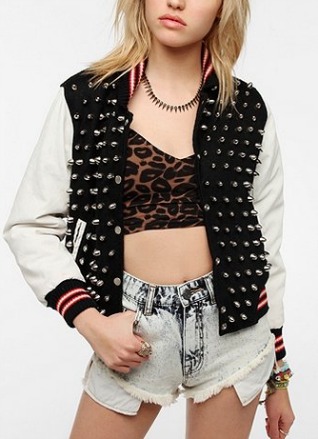 Alongside the trend of sporty-chic, came the recycled varsity jacket; yes, the same oversized, leather sleeved, monogrammed high school jacket. Originally worn by competitive athletic teams in the 90s, this jacket has unleashed itself from those set boundaries, and is no longer playing by the rules. Otherwise known as the "Letterman Jacket", it's simple shape and two-toned colouring is suitable for a variety of outfits, and fit for all body types. Pair it with a classic denim jean and white tee for an old school look down memory lane, or layer it over a lace dress for that "my boyfriend is team captain" look.
Stylish stars like Kim Kardashian, Taylor Swift, and Rihanna have been captured out sporting their varsity finds, and large retailers such as Topshop and American Apparel are making it their trademark jacket this season. What's great about this jacket, is that your Dad may have kept his from when he was a big shot in the "good old days", which you can then up cycle and flaunt a truly authentic vintage piece.
1. Topshop M Jersey Varsity Bomber Jacket, $70.23.
2. American Apparel Unisex Club Jacket with Leather Sleeves, $198.00.
3. Charlotte Russe French Terry Varsity Jacket, $26.99.
4. UNIF Studded Drop Out Varsity Jacket, $249.00, Available at Urban Outfitters.
5. River Island Grey Rihanna Leather Sleeve Varsity Jacket, $187.29.
6. Karl Jack Tweed and Faux Leather Varsity Jacket, $239.00, Available at Net-a-Porter.
Written By: Jenn McNaughton, Toronto, @jennmcnaughton
Are you an employer? Post your job here.
Are you a job seeker? Find fashion jobs here.