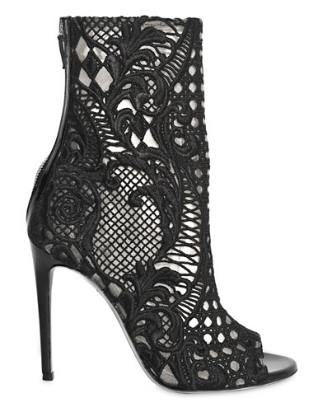 Unleash your inner dark side and take a wild walk by following fashion's nocturnal lead with a little gothic glamour. Black and brooding, gothic glamour graces the season by bringing all things dark out of the shadows with deep and moodier fare fit for winter's frosty chill. Clothes as dark as night can mysteriously make you fade into the background or stand out more than ever, depending on your daring sense of style. Fierce vampy fashion and Victorian flair give this gothic trend a modern makeover swimming in lavish opulence and luxurious details with a medieval mix of bondage inspired leather, feminine lace, plush velvet and intricate embroidery alongside edgy gleaming jewels. When night calls, give your eveningwear a dark injection rich with dramatic romance and elegant glory to embrace the new noir.
1. Gucci Brocade and Velvet Jacket, $795, available at Flannels Fashion
2. Oasis Flocked Gothic Dress, $48
3. Fleet Ilya Corset Harness, $450
4. Elizabeth and James Brocade Peplum Top, $163, available at My Wardrobe
5. Biba Feather Cape, $65, available at House of Fraser
6. John Lewis Satin Evening Gloves, $12
7. All Saints Neely Bodysuit, $136
8. Love Rocks Cross Drop Earrings, $43, available at ASOS
9. Temperly London Satin and Tulle Maxi Skirt, $1,615, available at Net-A-Porter
10. Lanvin Crystal Pendant Necklace, $759, available at Barneys New York
11. Balmain Lace Boots, $1,871, available at LuisaViaRoma
12. Lulu Guinness Paloma Fan Clutch, $795
By: Megan Correia, Managing Editor, Toronto
You should follow me on Twitter @MeganAlyssaC.
Are you an employer? Post your job here.
Are you a job seeker? Find fashion jobs here.