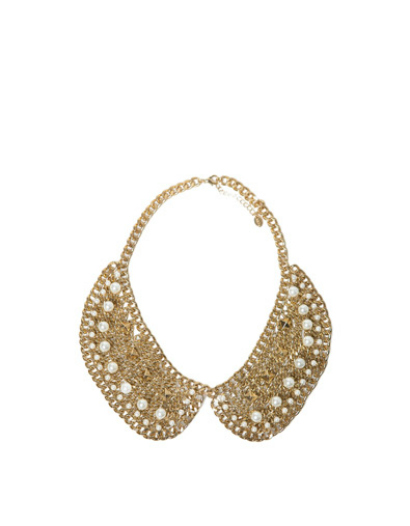 'Tis the season for all that glitters and is gold. And who could possibly resist a sparkly something under the tree or in the stocking?! A selection of fashionable gems is in order for all levels of indulgence.  Statement necklaces are always a win. Think big, chunky and glittery. This also includes necklace collars, which are the latest in costume jewellery trends. A little something on the hands is nice too and I personally can't think of a better combo then the Auriele Bidermann cuff and the iconic YSL arty ring. You will be guaranteed to have the most glamourous hands in town. Last but not least, perhaps it's a special Christmas for you. If it is, you might want to check out the beautiful Anne Sportun collection, which offers a dream assortment for any jewellery collector with a luxe eye.
1. Lisbeth Nicolette Bracelet, $42
2. Auriele Bidermann Cuff Bracelet, $1000, available at Misch
3. Anthroplogie Everjade Necklace, $58
4. Zara Gold Mesh Collar, $40
5. YSL Arty Ring, $290, available at Net-A-Porter
6. Anne Sportun Ring, $4510, available at Kiss & Makeup
By: Kate Horsman of Bullet With Butterfly Wings, Vancouver
You should follow me on Twitter @lilkatehorsman.
Are you an employer? Post your job here.
Are you a job seeker? Find fashion jobs here.