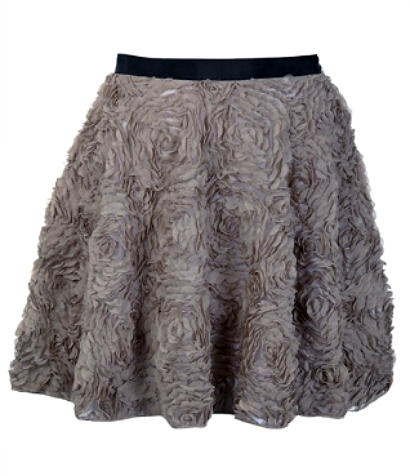 Enchant your wardrobe this season with emblazoned embellishments on the prettiest party skirts for 2012. Designers let loose with decorations on the fall runways by adorning pieces in ornate embellishments like intricate embroidery, floral appliqués and bejeweled trimmings. To get your shine on, dazzle onlookers in a playful piece like a pretty party skirt for sophisticated standout sparkle. From glistening gildings in the shape of sequins, crystals, beads and studs to textural trimmings in soft feathers and three dimensional designs, no holiday soiree or festivity is complete without the gleaming glamour of an embellished skirt. With an accent here and a glisten there, your wardrobe shines in the spotlight with sparkling metallics, shimmering jewels and luxurious textures thanks to intricate and ornate craftsmanship this season.
1. Alice + Olivia Magnum Classic Tiered Mini Skirt, $396
2. No.21 Black Embroidered Embellished Skirt, $773, available at Stylebop
3. Gryphon Glitz Embellished Mini Skirt, $391, available at Boutique1
4. All Saints Embellished Dreamcatcher Skirt, $270
5. DKNY Embellished Paillette Skirt, $295, available at Net-A-Porter
6. Markus Lupfer Flower Embellished Skirt, $413, available at Farfetch
7. Topshop Feather Embellished Mini Skirt, $80
8. H&M Metallic Embellished Embroidered Skirt, $30
By: Megan Correia, Toronto
You should follow me on Twitter @MeganAlyssaC.
Are you an employer? Post your job here.
Are you a job seeker? Find fashion jobs here.