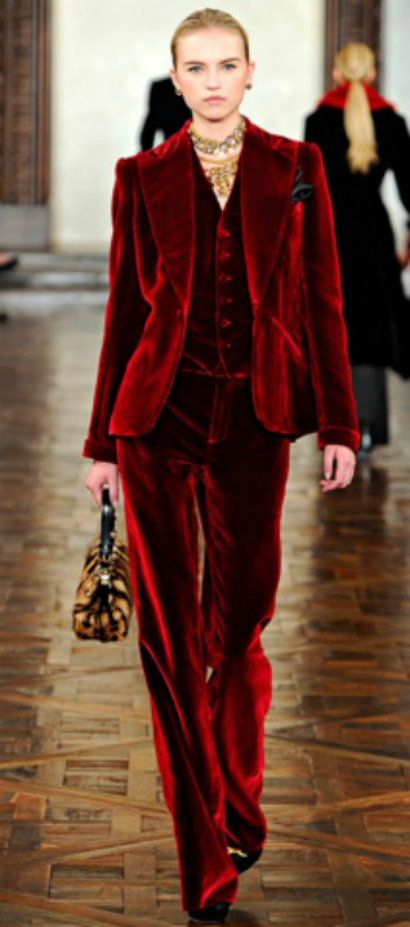 Remember those grungy velvet dresses from the 90s that made us all look like Wednesday from the Adamms Family? Believe it or not, velvet has made its way back on the market, falling under the top 10 trends for fall. With its sexy sheen and luxurious touch, they're calling it the "Velvet Revolution." From Armani and Gucci, to Burberry and Ralph Lauren, we saw head-to-toe velvet looks dominate the Fall 2012 runways of the most highly respected designers around the world. Velvet is an easily transitional trend for this season, which can take you from a lunch date with the girls, to a holiday party on the weekend. For a subtler look, try darker shades that won't be as noticeable, and for that "wow" factor, opt for a jewel tone like emerald or ruby. Give this edgy yet glamorous trend a more modernized try, and guaranteed, you will feel more royal than goth.
(Runway Photos: Gucci, Ralph Lauren, Balmain)
1. Topshop Crushed Velvet Midi Dress, $55
2. Sister Jane Velvet Dress With Independent Collar, $132, available at ASOS
3. American Apparel Velvet Full Woven Skirt, $44
4. J.Crew School Boy Blazer In Velvet, $118
5. J Brand 852 Katharine Velvet Skinny Leg, $253
6. Vince Camuto Verona Pump, $118, available at Shoe Box
By: Jenn McNaughton, Toronto
You should follow me on Twitter @JennMcNaughton.
Are you an employer? Post your job here.
Are you a job seeker? Find fashion jobs here.