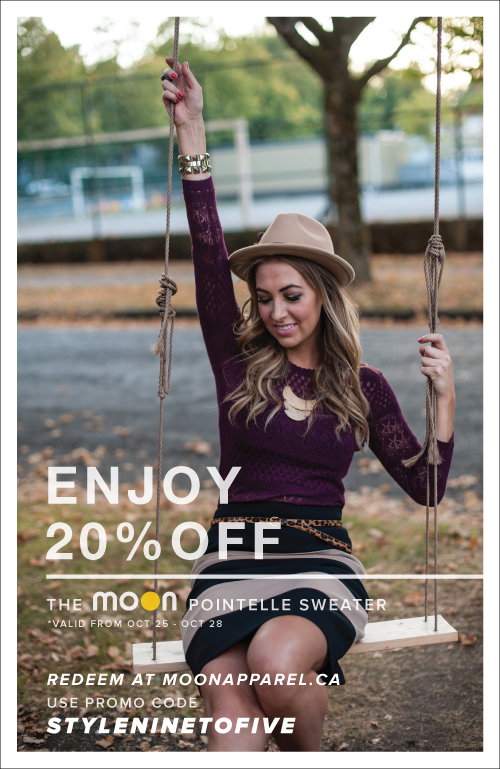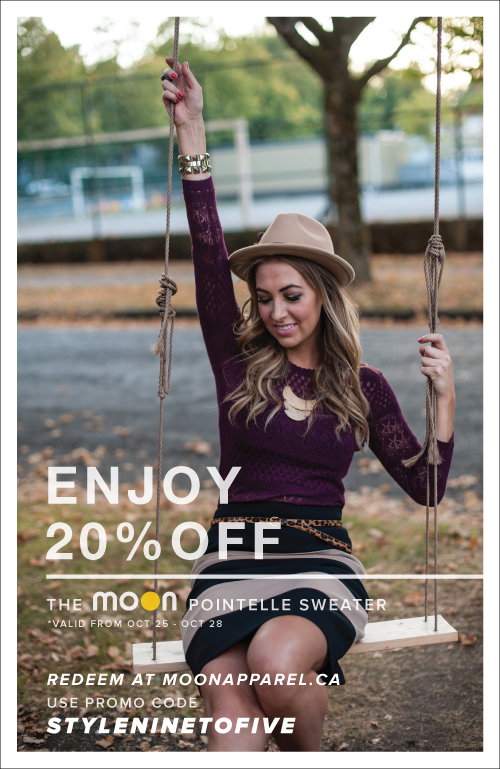 I'm excited to be a MOON Apparel ambassador! Until October 28th, you can purchase my favourite fall piece, this burgundy pointelle sweater, for 20% off (use promo code STYLENINETOFIVE)— an exclusive opportunity for a limited time.
This Fall, every wardrobe needs a burgundy piece and this knit long sleeve is the perfect addition.  I added a tan hat and gold accessories to add versatility and to match my personal style. Adding accessories is the easiest way to amp up any look, like simply throwing on a hat when the clock hits 5pm.
Invest in pieces that you can mix and match, like this skirt that will take you from nine-to-five onto your after-work event or night out. Show off your waistline by tucking in the top and adding a skinny belt. Don't hesitate to mix prints. Classic prints like leopard print and stripes are two prints that work really well together and will always be on trend. Switch up your look and opt for an ankle boot for the office rather than a basic pump.
Photographer credit: Priscilla Locke
You should follow me on Twitter @Christie_Lohr @StyleNineToFive @BeautyNine2Five.
Are you an employer? Post your job here.
Are you a job seeker? Find fashion jobs here.