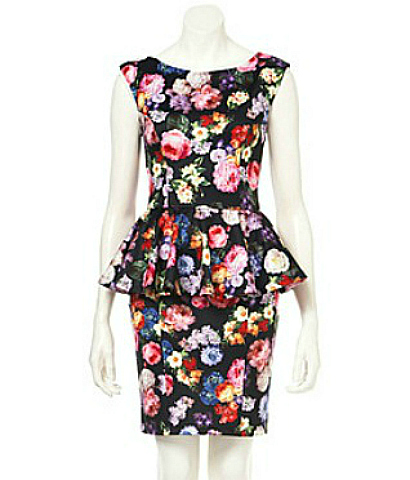 Good news fashionistas, summer has arrived! You can now officially stop and smell the roses while still looking fabulous. Head to toe floral prints are all the rage this season, straight off the runways and budding on the streets. Match patterns as a suit or pair different designs together from collections like Erdem or Chloé, and break up the look by adding a punch of color in a bright or pastel tone of lilac, sunflower, or robins egg blue. By mixing high-end designers with less expensive trend pieces you can add versatility to an outfit on a more affordable budget, and create a look all your own. Whether attending an actual garden tea or an outdoor wedding this summer, these fun trends only come around once a year… Our advice? Wear it while it is hot!
Inspiration Images courtesy of Erdem Spring/Summer 2012 and Chloé Spring 2012 Ready-to-Wear
1. H&M Floral Print Slim Trousers, $40
2. Topshop Petite Floral Peplum Dress, $88, available at The Bay
3. Rachel by Rachel Roy Floral Corset Dress, $169, available at The Bay
4. Pins and Needles Floral Colorblock Blazer, $69, available at Urban Outfitters
5. CV by Dolce Vita Floral Short, $79, available at Urban Outfitters
6. TNA Floral Dress, $50
By: Emily Gray, Toronto
You should follow me on Twitter @litlmissfashn.
Are you an employer? Post your job here.
Are you a job seeker? Find fashion jobs here.