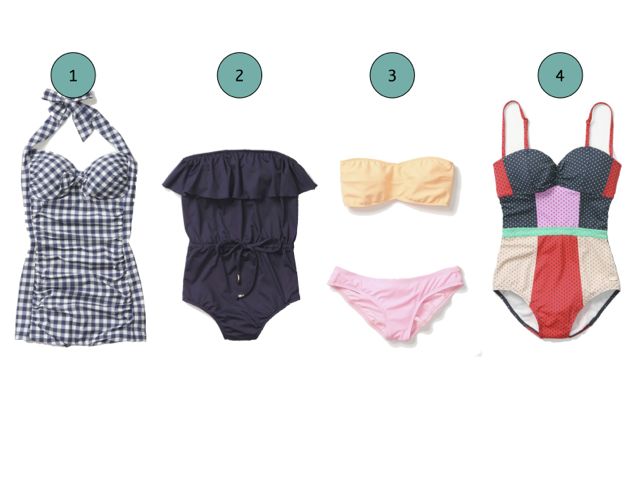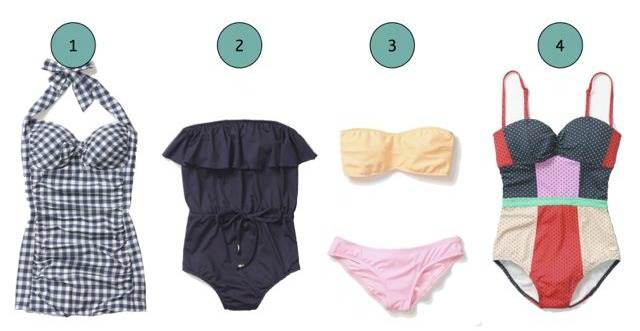 Don't be afraid of swimsuit season, ladies. There are swimsuits for every figure, and amazing cover ups too! Right now I love the selection of suits that Anthropologie carries, and the Gap always has great mix and match pieces. Take a look at what swimsuit would be best for your frame.
Calling all curvy girls, this swimsuit is great for tucking everything in at the beach. The slight ruching in the middle makes my tummy look long and lean, and the halter top holds everything in. Love the vintage style of this swimsuit, perfect with a wide brim hat and some oversized vintage shades.
If you're apple shaped, consider wearing a suit like this. It looks more like a romper, with a bit more room on the top and has a drawstring that ties at the waist to add more shape to your figure. I know that a strapless suit may seem counterproductive, but this one has good coverage.
If you're pear shaped (like me), then this two piece suit would work. Us pear shapes sometimes feel like we need more coverage on the bottom because of our figures, but getting those high cut boy shorts can take away from the length of the leg, accentuating the parts we don't want to accentuate. A low cut bikini bottom that has enough coverage in the back in a soft solid colour is the best way to go, try to steer clear of bold patterns on the bottom.
If you're straight-figured, then the best way to fake those curves is this patchwork suit. It has a band in the middles that offers a faux hourglass figure and adds balance to the body. The patches in the middle also give the illusion of length, so if you're petite and straight this is a great option for you. The sweetheart neckline with moulded cups gives a little more curve up top too.
1. Dolly Gingham Maillot Suit, $168, available at Anthropologie
2. Arvette Maillot, $158, available at Anthropologie
3. UV Rays Bikini, $59 and $79, available at Anthropologie
4. Sweetheart Patchwork Maillot, $218, available at Anthropologie
Anthropologie locations in Canada are as follows, though some of the above items are online exclusive.
Anthropologie Vancouver located at: 2912 Granville Street (South Granville)
Anthropologie Toronto located at 80 Yorkville Ave, or 19 Clock Tower Road
By: Jo BouSaleh, Vancouver of Hunter and Hare 
Are you an employer? Post your job here.
Are you a job seeker? Find fashion jobs here.