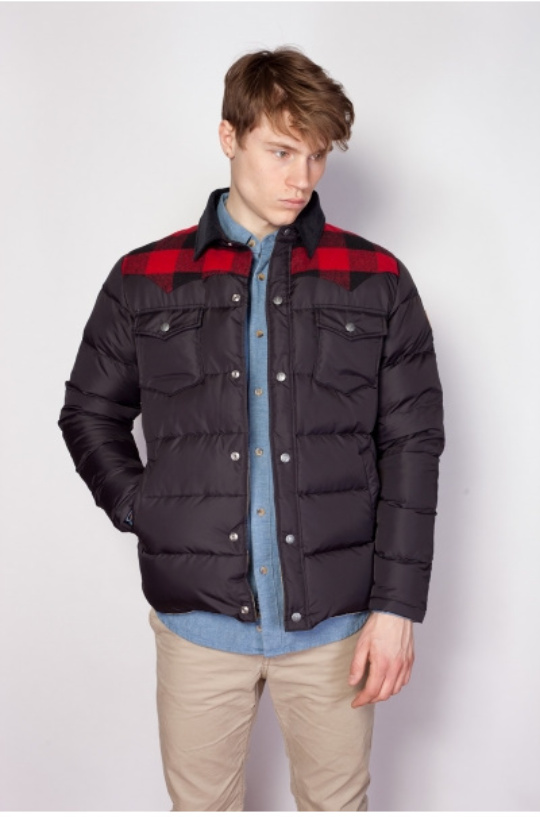 It's a fact: Men are the most difficult people on your holiday shopping list. It's as if they secretly get together and come to the consensus that all they need is socks. In turn, leaving us in a frenzied state the entire month of December, scouring shops and online, and playing mind reader, in hopes of miraculously finding what he really wanted to ask for. To assist in your search, I've come up with a list (with the help of my most fashion conscious male friend) that will make your father/brother/boyfriend/husband, the most dapper gentlemen on Christmas day.
From top to bottom, things he's secretly coveting this year:
1.It's going to be a long winter, so a cozy down-filled coat is in order. Our personal fave is The Rockwood jacket by Penfield – versatile and lightweight with lumberjack detail on the shoulder ($240). Find it at Lavish and Squalor or at the Penfield Online Shop.
2, 3. A classic staple in every man's wardrobe is a nice button down shirt.  We like Gitman vintage button downs because they're slim fitting and use great quality fabrics ($140-$180). Available at Nomad. Gant button shirts have a more relaxed fit ($135), available at Park & Bond.
4. A good quality, nice fitting pair of jeans is something every man needs (and wants).  Naked and Famous (made in Montreal with raw denim sourced from Japan) come in three cuts for whichever style he's into ($140-$265). Opt for their over dyed denim – they fade over time and get better with wear. Find them at Uncle Otis.
5. Practicality is key when it comes to men, so get him a bag to carry his things. It's so simple. The Makr Farm Messenger Bag is our pick ($195).
6. Simultaneously practical and stylish, a watch is always a great gift.  With so many options and styles it's tough to determine what he'll love, so it's best to opt for something classic. We like the Vestal Observer Watch ($230) because it's simple, yet sophisticated. Find it at Watch It!.
7. Also, if he likes to get his hands (or jeans) dirty, Levi's "commuter series" denim are conveniently dirt and water resistant ($79).
By: Kayla Chobotiuk, Toronto
You should follow me on Twitter @oh_kayla
Are you an employer? Post your job here.
Are you a job seeker? Find fashion jobs here.