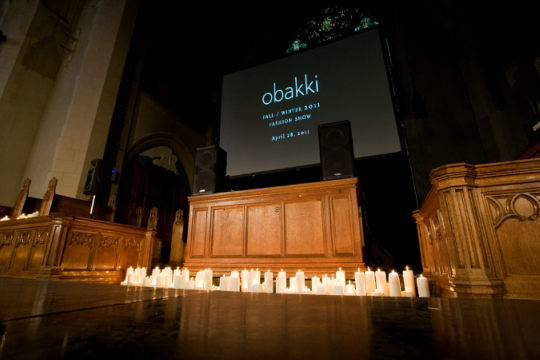 We believe in the gospel according to Coco, Cristobal and Christian (Chanel, Balenciaga and Dior, that is). So when the fashion gods call upon us to celebrate the new season, we gather in reverence to honour their gifts. Befitting the laws of fashion worship, Obakki presented its Fall 2011 Collection at Vancouver's Saint Andrew's-Wesley Church.
The dimmed setting set the tone for a dark and cryptic collection. Feminine draping and flowing silhouettes contrasted with restrained, body-conscious attire. Textures varied from fur-trimmed elements and heavy wools to soft silk layers. Painterly red slash-like prints and lace details lent to a gothic feel, while models walked the runway with disheveled fishtail braids, deep red lips and ghostly pale faces. Overall, Obakki demonstrated cohesive, wearable and beautiful pieces. Surely, it was a collection to preach about.
Photos courtesy of Peter Jensen.
By: Valerie Tiu, Vancouver
You should follow me on Twitter @valerietiu.
Are you an employer? Post your job here.
Are you a job seeker? Find fashion jobs here.