Pattern-on-pattern seems like such an easy styling technique in theory, but when it comes to actually executing it, many people become overwhelmed or end up with an outfit that looks more haphazard than stylish.
The Golden Rule of pattern-on-pattern styling is to ensure that both patterns share one element that will give the pairing cohesion. This can mean coupling two prints of the same pattern together or paying particular attention to the colour or size of prints to give an outfit harmony.
Here's three examples of how to pull off the pattern game:

1. Pair two prints with the same pattern together.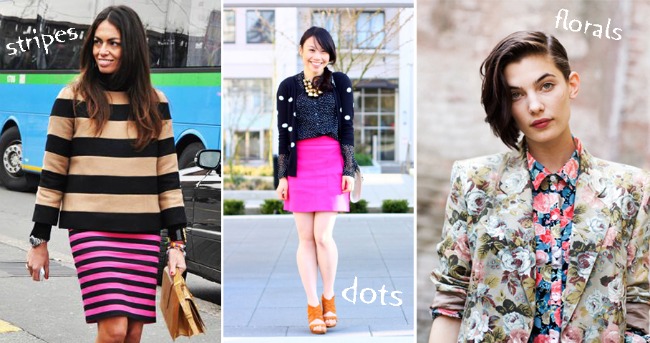 This is the easiest and most effective way to make a style impact with your pattern-play. Assistant Fashion Editor of Vogue Nippon Viviana Volpicella, Vancouver blogger Jen of Her Waise Choice (and one of my favourite blogger-friends), and Swedish model Jazzmine Berger all represent this notion perfectly. To keep their looks from being fun without looking too busy, they maintained the same pattern in their looks and simply tweaked the colour and size of their prints.
2. Throw different patterns together but ensure that either the size or colours of both prints are in keeping with each other.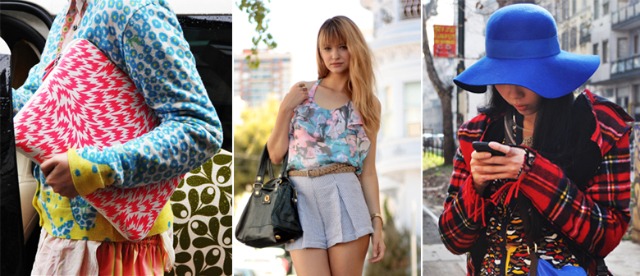 Things get a little trickier when you mix different patterns together, but the payoff is worth it. The tried and true trick is to keep one element of the look the same. In the leftmost picture, the similarity between the sizes of both prints gives two otherwise very different patterns unity. In the center, San Francisco blogger Liz of Late Afternoon proves that she's an expert when it comes to pattern-mixing by teaming a floral top together with a pair of shorts that both emphasize a similar blue shade. Finally, Susie Bubble of Style Bubble throws two equally vibrant and loud patterns together but pulls it off by keeping both within the same colour family.
3. If you're stuck, you can't go wrong with animal print.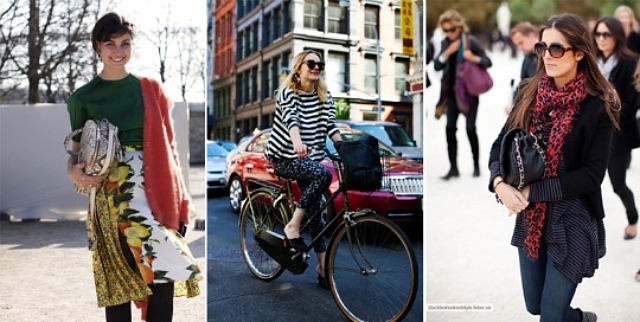 I treat animal print as a near-neutral – it goes with just about everything. As mentioned above, try to keep the pattern and/or colours along the same scale, but for the most part you can go wild with animal print!
At the end of the day, it's easy enough to mix patterns together as long as some consideration is given to how the prints compliment each other. Try out these techniques and rock some new and fun outfits!
Image credit: Stockholm Street Style, Tommy Ton for Style.com, Late Afternoon, Her Waise Choice, Garance Doré
By: Alexandra Grant, Vancouver
You should follow me on Twitter @tovogueorbust.
Are you an employer? Post your job here.
Are you a job seeker? Find fashion jobs here.