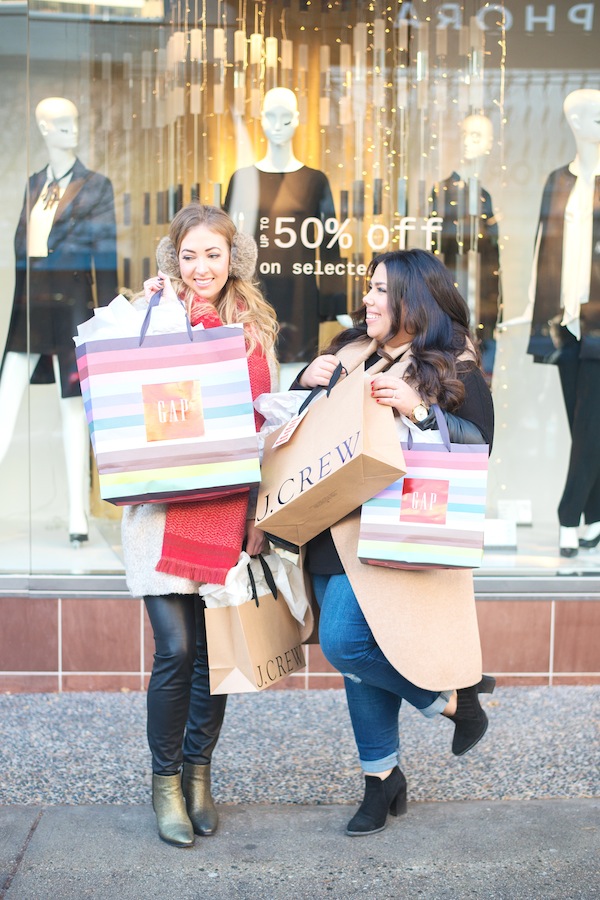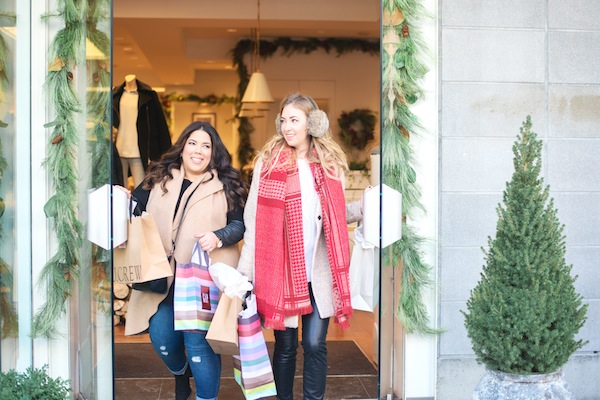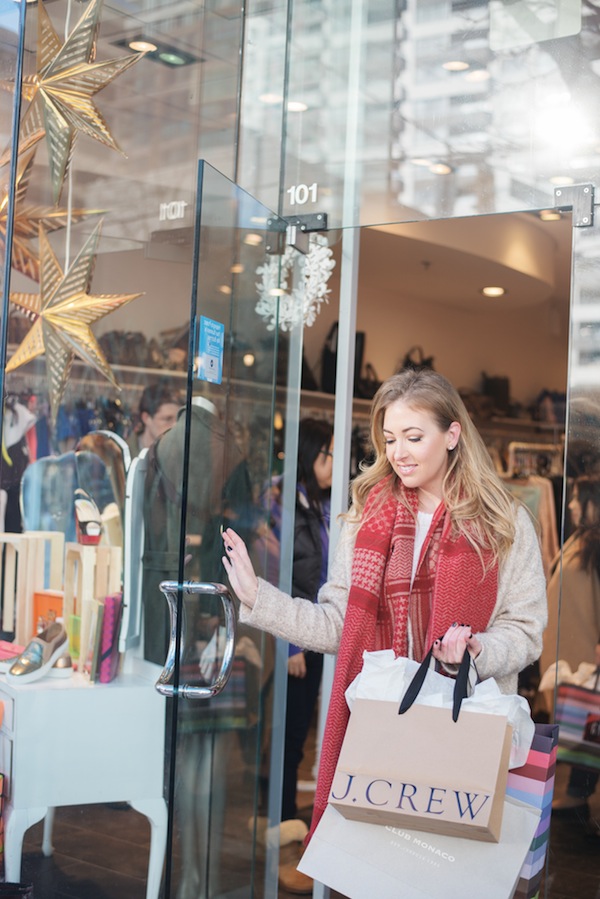 Sparkle is the new black this holiday season at Vancouver's top shopping destination, Robson Street. Erin Sousa of The Sparkle joined me for a day on Robson. Keep scrolling to see what we got up to!
Instead of trekking all over the city to get your holiday shopping done for friends and family (and of course, a gift or two for yourself as well), hit up Robson Street instead. It's definitely my favourite location as far as having a bit of everything goes. With a large assortment of retail shops (love Club Monaco, J.Crew and new pop-up shop Mine & Yours), restaurants, and specialty stores, this notorious street really does have everything you'll need to power through that personal to-do list! I especially love that Robson Street is an open-air shopping destination, which means fresh air, and a chance to take in the beautiful light displays that Downtown Vancouver has to offer.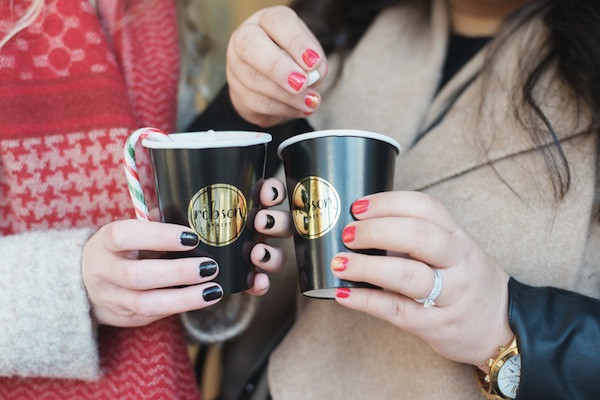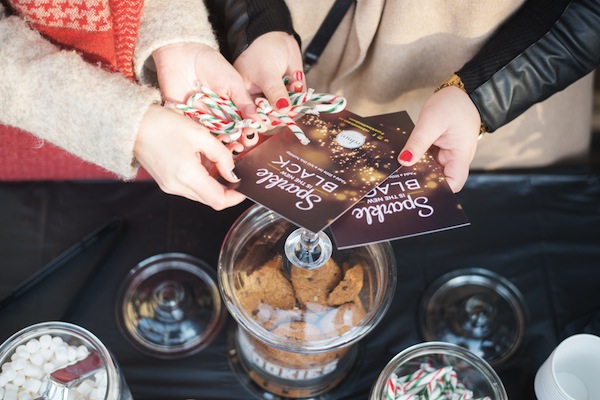 Now that the Holiday Lounge at Milestones (1145 Robson St.) is up and running, I can kick back with friends after a long day and enjoy a gourmet hot chocolate, courtesy of the DIY hot chocolate station. Endless hot chocolate possibilities? Now that's enough to bring out the inner kid in everyone! The Holiday Lounge and complimentary hot chocolate station will only be at Milestones until December 24th, so be sure to stop by before Christmas.
Have you sent your wish-list in to Santa yet? If not, visit Robson's North Pole Express Mail Box, which is open from December 1st to 19th at the Urban Pasture in front of Café Crepe. Fill out your wish-list, place it in the box, and whether you're naughty or nice, you'll have officially made yourself eligible to win some amazing prizes courtesy of the Robson Street Association.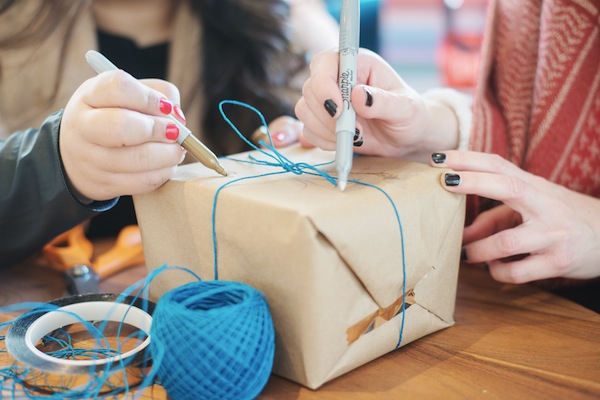 For anyone who knows me well, they'd tell you that I am an absolute stickler for presentation. Unfortunately, when it comes to gift wrapping, sometimes, I just can't seem to make it work the way that I imagine in my head. Luckily, Robson Street even has a fix for that! In partnership with CB2 and the Gordon Neighbourhood House, a gift wrapping service is available by donation at 1277 Robson street, Fridays from 4 to 9 p.m, Saturdays from 12 to 8 p.m, and Sundays from 12 to 7 p.m. for all of December. Not only will you get a professionally wrapped gift out of it, you'll also get the satisfaction of knowing that your money is going towards a great cause.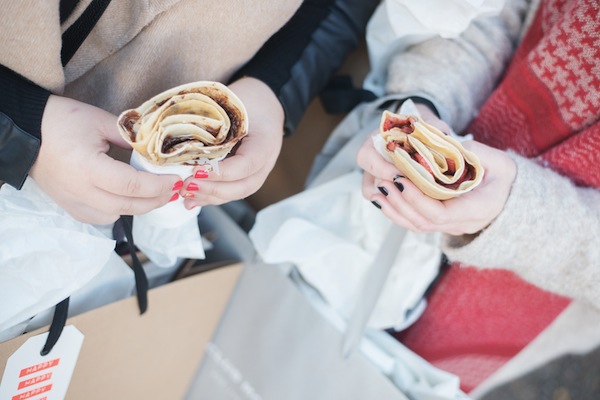 Since Robson Street is home to numerous restaurants and eats, if I'm feeling hungry, I can fuel up with a crepe and hot chocolate, or celebrate a successful day of finishing up my holiday tasks with drinks and a bite to eat at Cactus.
That's a wrap, and happy shopping from Erin and I! #SparkleWithRobson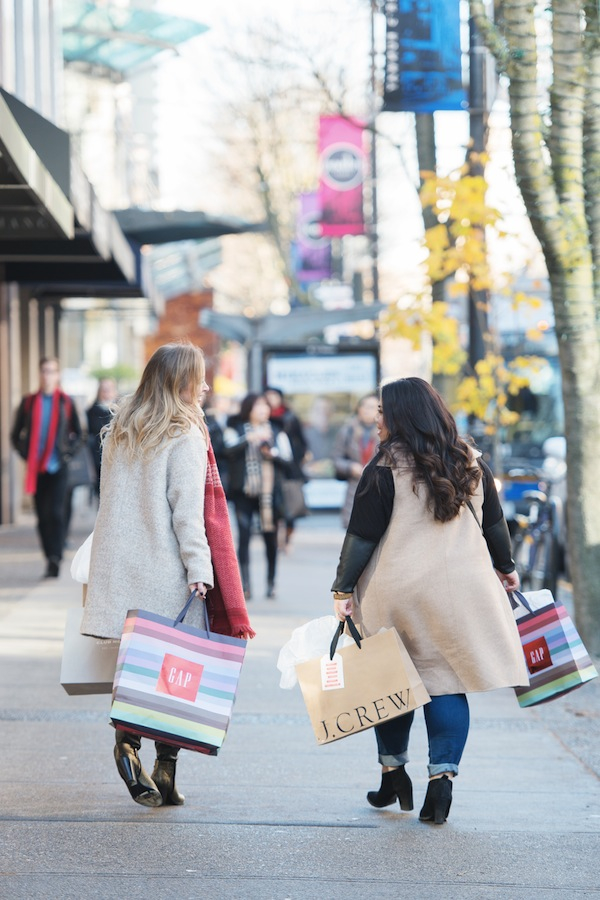 My outfit details: earmuffs from Danier, Giuseppe Zanotti boots from Mine & Yours, the rest from Zara
Are you an employer? Post your fashion job here.
Are you a job seeker? Find fashion jobs here.
Don't forget to follow us on Instagram for the latest fashion jobs, career advice and fashion trends!