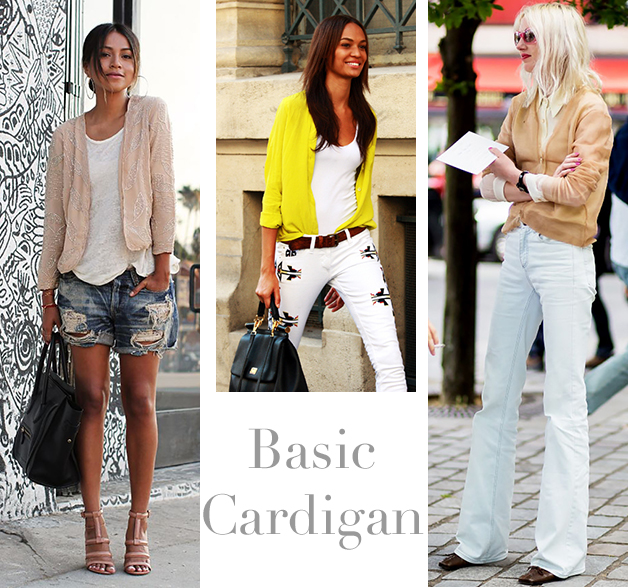 Cardigan sweaters don't always get the pretty reputation that they should.  Often seen as reserved, they made the perfect staple in the wardrobe of Charlotte York from Sex and the City.  While she may have been prim and proper and a high-bred of New York City, basic cardigan sweaters do not always have to be as refined as her and as refined as her life.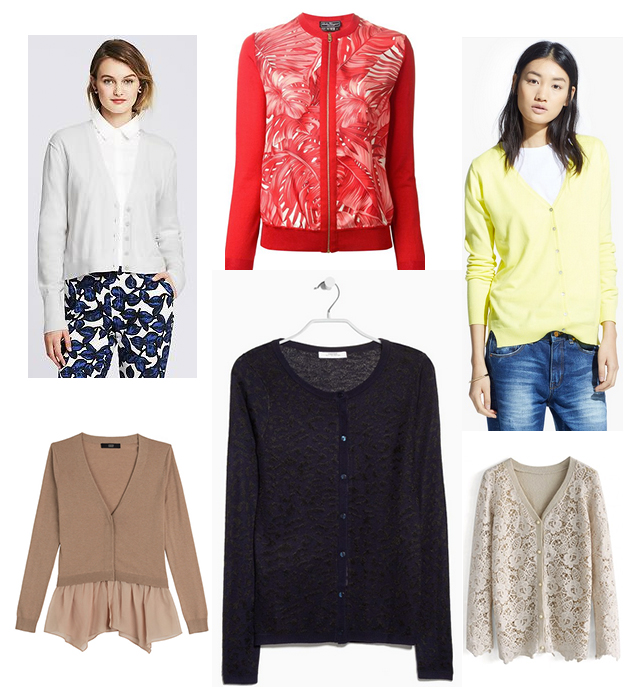 There is nothing basic about the basic cardigan, so for a modern and youthful flair, wear your cardigan:
• with boyfriend jeans for the feminine and masculine combo
• wrapped around your neck wearing a slinky silk top and culottes, for that little bit of refinery but mostly for that emergency layer for summer nights out
• draped over your shoulders in a summer's dress
• fitted with a pencil skirt for a sleek silhouette or with a flared skirt to even out the proportions.
• tucked it into high waisted pants
Inspiration:
Photo Courtesy of Trend4girls
Photo Courtesy of  Style Saint
Photo Courtesy of Who What Wear
Product Images:
1) Banana Republic Cropped Vee Cardigan, $74.00
2) Salvatore Ferragamo Philodendron Print Cardigan, $ 1,053.85, available at Far Fetch
3) Mango V-Neck Cardigan, $29.95
4) Steffen Schraut Cashmere- Blend Cardigan with Draped Hem, £165 available at Style Bop.
5) Mango Leopard Print Cardigan, $59.95
6) Chicwish Delicacy Floral Crochet Cardigan in Beige, U.S. $53.47
By Lynda Castonguay @MissElle_C