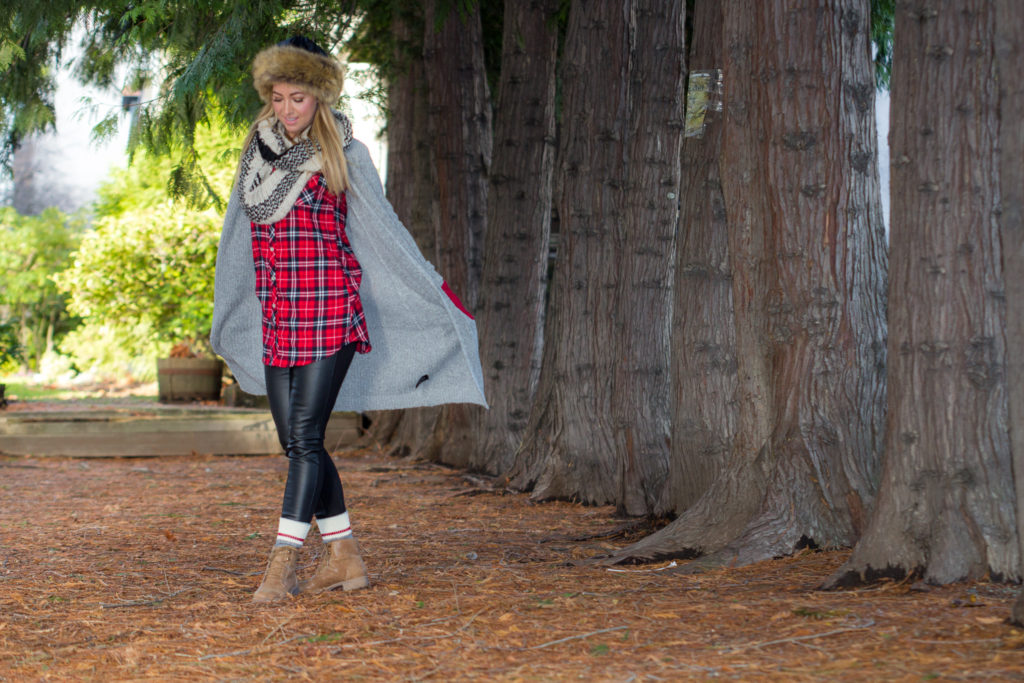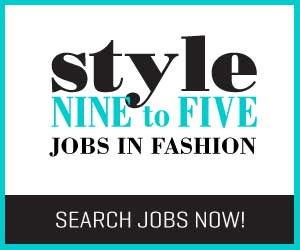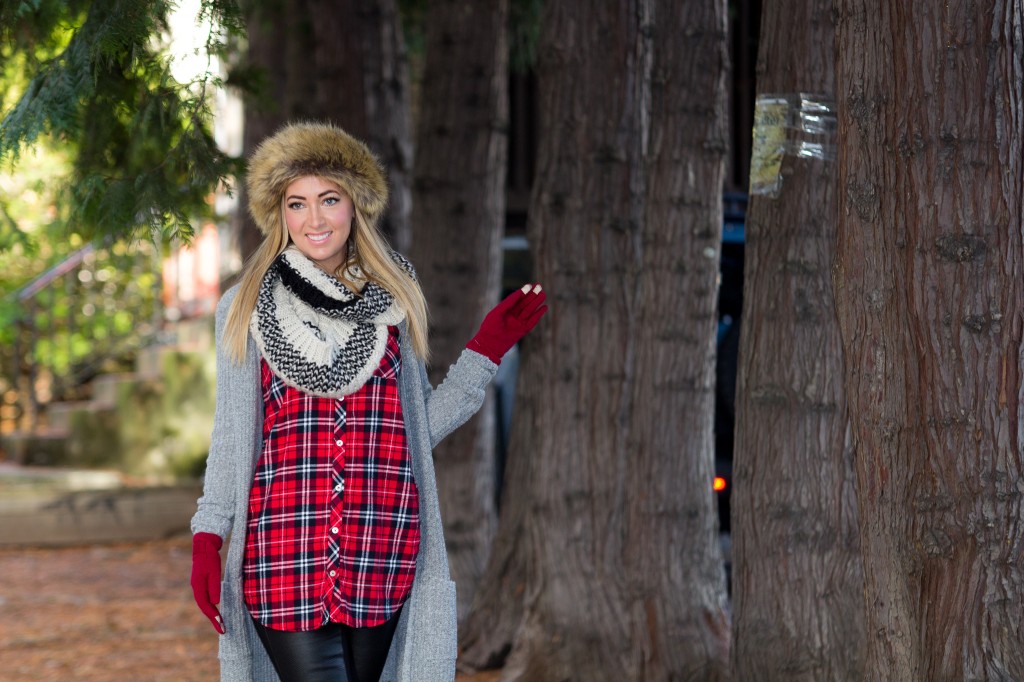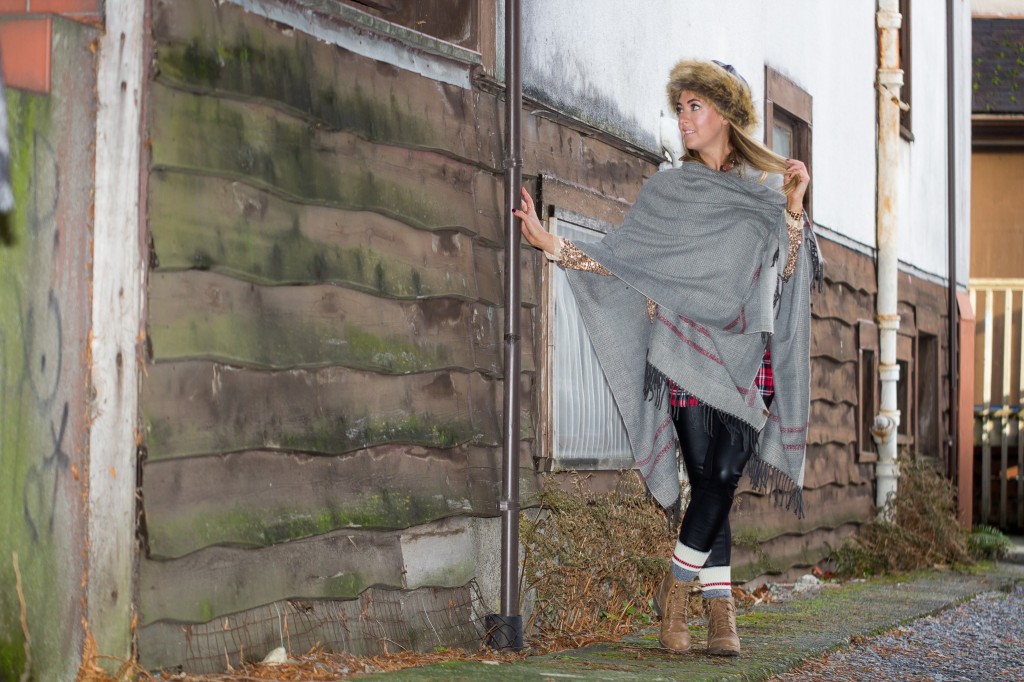 I absolutely love the holiday season for all of its hustle and bustle and of course, the amazing cold weather fashion. For this week's outfit, I went for a cozy, casual look befitting a weekend spent at the cabin, but worked in a few holiday inspired pieces from the stores on Robson Street for an added sparkle factor too.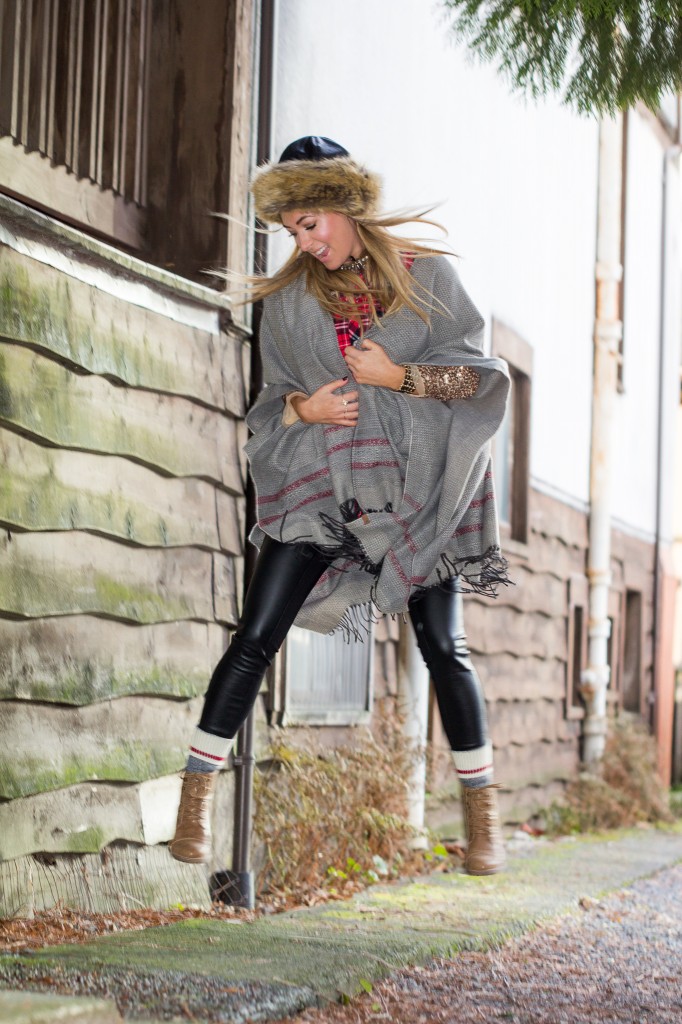 A blanket scarf and a long knit cardigan comprise my two sets of outerwear choices, with a plaid flannel shirt bringing a dash of holiday red to the mix. You'll notice that when I opted for just the blanket scarf as my final outerwear piece, I also layered a sequin jacket over-top of my plaid shirt, which peaked through the scarf, adding that touch of holiday shine.
Completely committed to staying extra warm, I also worked in a faux-fur lined hat, a thick-knit circle scarf, and red mittens. With so many layers up top, I made sure to pick a fitted bottom, like these leather leggings, to bring some shape and balance to my look. A pair of long, Roots socks and sturdy lace-up boots finish up my cabin chic ensemble.
Roots has two locations on Robson: Burrard flagship corner location, and the Thurlow location on the 1100 block, specializing in baby, toddler and kids merchandise.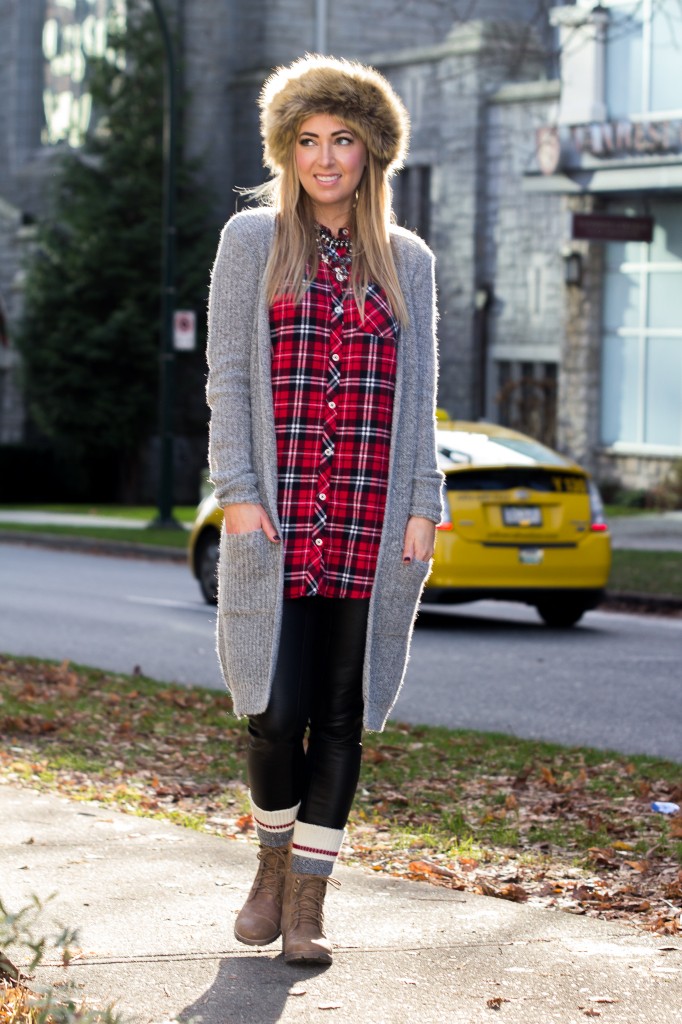 Outfit details: Roots blanket scarf $78, Forever 21 plaid top, Le Chateau leather-like leggings $39.99, Le Chateau hat, Le Chateau sequin jacket $120, Le Chateau grey sweater $69.95, Roots socks $18.50 for a pack of 2 pairs, Forever 21 boots
CONTEST:
Style Nine to Five is giving you the chance to win a $500 gift card to Le Chateau and a Roots classic sweat top and a village bag, worth $250. All you need to do is follow @RobsonStreet, @Christie_Lohr, @StyleNinetoFive and @LeChateau on Instagram, as well as comment on Style Nine to Five's Instagram account by tagging a friend with whom you would like to go shopping with on Robson Street. Nothing says "holidays" like a shopping spree! #SparkleWithRobson
Photos by StreetScout.
Are you an employer? Post your fashion job here.
Are you a job seeker? Find fashion jobs here.
Don't forget to follow us on Instagram for the latest fashion jobs, career advice and fashion trends!